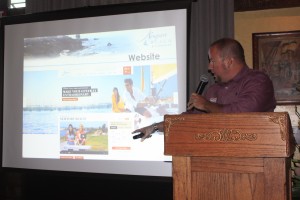 At last week's Corona del Mar Chamber of Commerce luncheon held at the Five Crowns Restaurant, representatives from Newport Beach and Company – the destination marketing entity for the city of Newport Beach –  made a presentation that detailed the changes that have occurred within the organization during 2013.
Ruby Gualberto, VP of Marketing Development for Newport Beach and Co., provided an overview of Newport Beach and Company's structure and priorities.
"Visit Newport Beach was created in 1996 as a conference and visitors bureau, but in January 2013 we incorporated into Newport Beach and Company, a destination marketing organization," explained Gualberto.
"Our mission is to partner with the tourism and hospitality industry by protecting and nurturing the destination brand and to deliver additional spending by leisure and conference visitors, leading to enhanced community vitality and quality of life," she said.
According to Gualberto, when visitors would in the past do an internet search on Newport Beach, they'd get different messages, so Newport Beach and Company is a way to consistently brand all of Newport Beach.
"We're an umbrella organization with different business units," explained Gualberto. "Visit Newport Beach promotes the city to tourist. Dine Newport Beach would work with the restaurant association to promote restaurants year round, and we would come up with a high end food and wine festival, and work on restaurant week, and promote the restaurants during large events in the city."
"Celebrate Newport Beach will handle major events in Newport Beach, developing and marketing them," she continued. "TV Newport Beach is the government access station, but we are charged to come up with new programming. We can focus on new events, restaurants, mixologists, etc. Film Newport Beach works with film studios to come and film here. Enterprise Newport Beach works with BID and merchants associations to enhance their marketing efforts."
Gualberto said the organization is launching an integrated marketing campaign which includes new visitor publications, distribution at airports and welcome centers, and an electronic wedding guide.
Mark Rudyk, Director of Online Marketing for Newport Beach and Company, shared the organization's new website.     
"It's totally redesigned–it's  amazing from where we were at to where we've gone," he said. "The website was built with mobile first responsive design, which allows us to have one website that conforms to any mobile device you're looking at it on, so it will rearrange for your device."
"Trends are that people are going mobile," he stated. "Smart phone sales are bigger than desktop sales.
Convenience is a factor; everyone is purchasing through phones."
He said that 86 percent of adults own mobile phones, and more than 65 percent of people who book a hotel room within 24 hours of staying there do so through a mobile device.
"Orange County is the eight most popular destination to book hotels via a mobile device in the U.S.," he added, which underscores the importance of having a mobile friendly website.
"This is phase one of the website," he explained. "We're going to do live concierge chat, geo targeted content,  incorporate Trip Advisor and Yelp reviews, and also add web cams around Newport Beach so you can see the weather at iconic spots around Newport Beach."
To view the new website, go to VisitNewportBeach.com.