By Christopher Trela and Catherine Del Casale | NB Indy
It's always fun to try a new restaurant, and to revisit others and explore new menu items. Such was the case recently when we dined at the new SHOR restaurant (located in the Hyatt Regency Newport), and made a return trip to Tamarind of London. We came away impressed with both experiences.
SHOR
The Hyatt Regency Newport Beach Hotel & Resort recently underwent a $15 million renovation, and nowhere is it more apparent than in the lobby and restaurant area.
Gone is Sol Restaurant, and with it the old menu. Now, the Hyatt boasts a new restaurant concept: SHOR American Seafood Grill.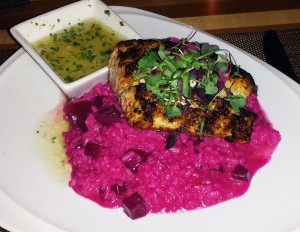 Open for lunch and dinner, SHOR specializes in seafood, although a handful of beef and chicken dishes are also on the menu.
SHOR's Executive Chef, Jonathan Solis, has been with the Hyatt for two years, and helped introduce the new menu when SHOR opened earlier this year.
A number of appetizers are listed on the menu under sections labeled "Shuck 'Em" and "Bait 'Em." House specialties include lobster ravioli, diver scallops and cioppino, but the real culinary fun begins with the entrees.
First, choose a meat or fish. Next, select one of seven seasonings. Then, add one of eight sauces to complete the dish. Eight different sides are also available.
"Having the ability to create your own flavors to suit your palate is a great way to really involve the customer in their meal," noted Catherine. "Another great aspect of SHOR is their tagline 'thoughtfully sourced, carefully served.' They have a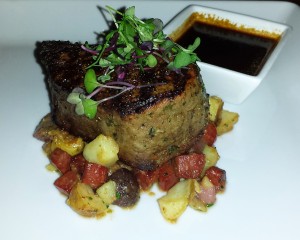 map on the wall of all the locations they have sourced their food from."
We started with crab cakes, which we dubbed delicious. They have a nice lemon citrus flavor and a thin crispy outer layer with a moist center.
For entrées, Catherine chose the filet mignon paired with Montreal seasoning and house made steak sauce, accompanied by chorizo fingerling potatoes, while I went exotic with the daily special catch of Sea Bass and citrus butter sauce, accompanied by red beet risotto.
"The filet is tender and juicy, and enhanced by the house made sauce, which has a light spice and flavors of plums, raison, tomato, garlic, and Worcestershire," stated Catherine.
"Yes, but look at my risotto–it's in Technicolor!" I exclaimed. "The sea bass is perfectly cooked, and the risotto has just the right amount of cheese."
We vowed to return soon and try more seasoning and sauce pairings.
Starters are $9 to $15. Entrees are $22 to $46. Sides are $6 to $7. For more information, visit NewportBeach.Hyatt.com.
 Tamarind of London
We visited Tamarind late last year, soon after Executive Chef Alfred Prasad began revamping the menu, and the kitchen. We were impressed with the changes, and looked forward to sampling new dishes when we visited Tamarind earlier this month.
Chef Navin Prasad, an Michelin Star-honored chef with the Tamarind Collection, was in the kitchen the night we visited (he normally is executive chef of Tamarind's sister restaurant, Zaika of Kensington, in London), so we were naturally excited to see what he was cooking up. We were not disappointed.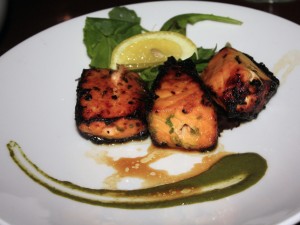 We started with traditional Naan, but Tamarind took it a step further and stuffed it with goat cheese and cilantro–a delicious combination.
For our main course we enjoyed the Kadhai Chicken (braised chicken thigh with cumin, garlic, turmeric, onions, and tomatoes).
"It's finished with toasted peppercorns, red chili and coriander seeds," noted Catherine. It has a nice spiciness that's not overwhelming."
One of the highlights of the meal was the rice pudding dessert, which reminded Catherine of the Coco Pebbles rice crispy treats she used to make with her dad.
"It's a sweet dessert with an interesting texture that has both liquid and solid elements," said Catherine.
We made a mental note to return to Tamarind for their late night happy hour menu, which as lighter fare and small bites such as spiced potato croquettes, battered lamb skewers and pan fried sea bass.
Kudos to Tamarind's GM, John Kukreja, and his staff, for making our visit (and that of other diners, from what we could tell) so much fun.
Starters are $4 to $14. Entrees are $12 to $29. For more information, visit TamarindofLondon.com.