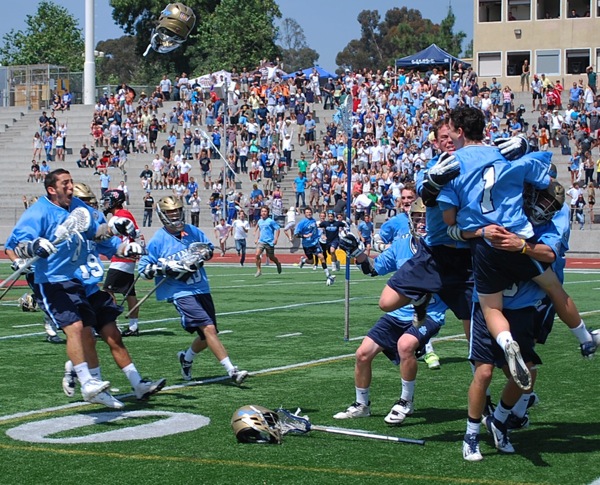 For the first time in their history, the CdM Sea Kings lacrosse squad won the Southern Section title on Saturday, coming from behind to defeat Palos Verdes High School, 7-6, before nearly 2,000 spectators in Mission Viejo.
The usually boisterous CdM crowd was silenced during the first quarter as PV made one goal and the Sea Kings failed to score. Then, during the second quarter, PV scored four more goals as Jack Ortlieb fired in a single goal for CdM. Frustration was seen on the faces of the players and the coaching staff at halftime.
Director of CdM lacrosse G.W. Mix gathered the boys together at halftime and discussed the strategy for the second half. The teammates shouted their motto, "All In!," before running back onto the field for the third quarter of play. Senior goalie Michael Ortlieb was seen praying at his goal, seeming to be searching for guidance.
Before long, CdM's Michael Keasey shot in one goal, Casey Mix blasted in two and Brett Nelson landed one in the net. Palos Verdes was able to answer with only one goal making the score tied at the end of the third quarter, 6-6.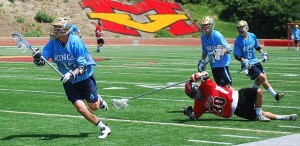 By the fourth quarter, Corona del Mar fans were on their feet. Then, senior middle Keasey blasted in a goal, PV failed to answer, and the Sea Kings had won the championship by a score of 7-6.
As time ran out, family members, friends and classmates ran onto the field to celebrate with the whooping and hollering team and coaches as helmets and lacrosse sticks flew threw the air.
"It was stressful, but we got it done," said Michael Ortlieb who made nine saves during the game. "It was a combination of a lot of hard work. The season came full circle and it paid off at the end. I couldn't be happier with my teammates. It's my senior year, this is my last high school game and I didn't want to leave anything on this field."
Ortlieb said, "I bowed my head and then looked up to the man in the sky…thinking about G.W.'s father [who died a week ago] and everything we've gone through this season…just saying, 'I gotta leave it out there on this field and hopefully it works out in my favor.' Luckily it did and I couldn't be more excited."
Mix said, "We had to get the lead back in the second half from a significant deficit. We've always been able to find a way, and once again, like true champions, the kids found a way to get it done. It wasn't easy, believe me. That's a helluva lacrosse team and a bunch of really good kids and a terrific coaching staff. Our kids were just better when it mattered today."
"My Dad passed away about a week ago," said Mix. I would imagine he's pretty proud of his grandson, that's for sure.
When asked what he said to the boys during halftime, Mix said, "We did a nice job of 'slowly chipping away at it.' That's what we talked about at half time. We had 24 minutes left in our season and we couldn't afford to waste one of them. And our kids did a great job."
"At the end of the day," said Mix, "we knew we had one of the best goalies in the country, I believe. He struggled a little at the beginning. I mean they were getting some great shots. Then the 'real' Michael Ortlieb showed up there in the last three quarters and made some huge saves. And that's what championship goalies do. That's what big time players do. They make big plays at big moments. We had quite a few of those. I'm proud of them."
Keasey said, "At halftime [G.W. Mix] said, 'Keep shooting. Stay positive.'  The seniors really took it upon themselves that we only had 24 more minutes of lacrosse in our high school career and to just go as hard as we could for that 24 minutes."
CdM junior attack Casey Mix said, "I feel amazing. I'm very excited right now and I feel very accomplished. I'm shocked. I love my brothers so much. Ryan [Mix] taught me everything I know. And Kyle [Canale] is always there for support."
After winning 13 of 21 face-offs for his team, Taylor Epp said, "I feel amazing. I'm gonna remember this for the rest of my life … the camaraderie that we've had and how we could all just bond together. And the second half … we came back from a four-goal deficit … and then to win. … That shows that we are all just about brotherly love. That's what we're all about on this team. We have each other's backs. That's why I love this team."
G.W. Mix said, "The kids talk about brotherly love. We talk about competing together and it's about the guy on your left and the guy on your right all the time. You know, it's just a special group of kids…that when the chips are down, they're not going to let each other down. They're going to fight for each other. That's what we did at halftime. 'Look around the huddle. Look at the guy to your left. Look to the guy to your right. You don't want to let him down and he doesn't want to let you down. Let's go see what happens.' And sure enough … a positive outcome."
– By Kathy Ochiai