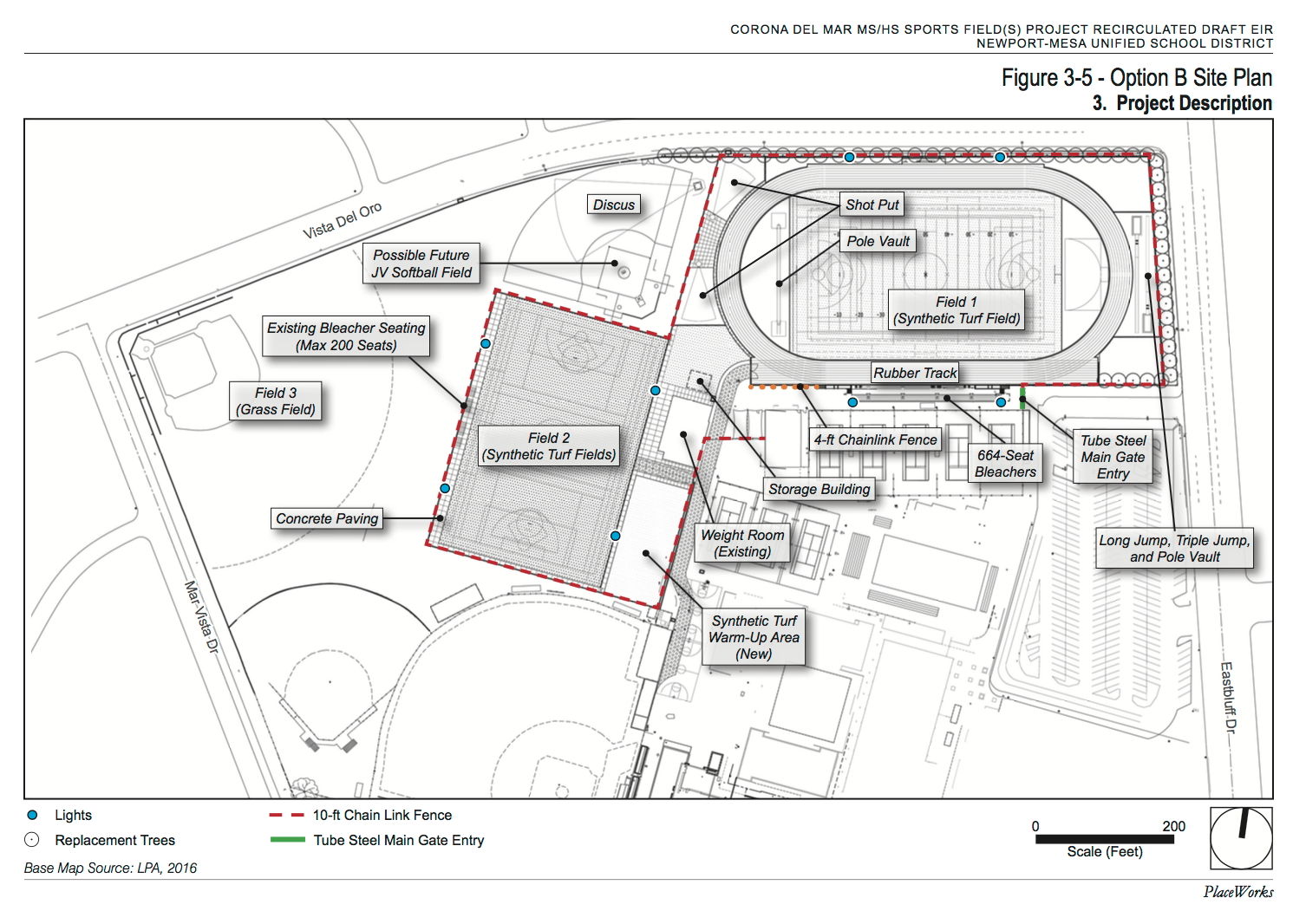 After a years-long contest, sports field project at Corona del Mar High School has finally made it into the end zone.
Newport-Mesa Unified School District Board of Education unanimously approved the project's final Environmental Impact Report on Tuesday. The 6 to 0 vote (board member Walt Davenport was absent) authorized district staff to begin the design process for option B, which includes two synthetic turf fields, one rubber track, sports lighting and spectator seating.
Supporters emphasized throughout the discussion that this option was a compromise for the highly controversial project, which has pitted a number of neighbors against the school for several years.
"I think we've come out with a great project that will serve both the needs," for students and residents, board member Martha Fluor said. "Is it a perfect project? Absolutely not. In a perfect world we would be able to provide everything, but we're not."
Objectives have changed or been scrapped in direct response to the neighborhood pressure, noted parent Janice Grace.
"I think we've really conceded quite a lot, even to get to this point, and I think it's time for us to approve it," she said.
The district has heard the community concerns and adjusted the project throughout the process, several people pointed out.
"You've gone above and beyond working with the community to give them access to this process," and negotiate, said CdM resident and parent Julie Means. "We have a fraction of what we originally intended."
The total project cost is currently estimated at approximately $11 million. Funding is from one-time funds received from the state and is subject to change.
The next step is to meet with the architect and talk about design, as well as get the working group back together.
On Tuesday, the main items of discussion were noise, traffic, lighting and pole height, and being a good neighbor.
About 50 people packed into the board room, approximately half of whom were CdMHS students.
Many supporters spoke during the meeting, primarily students, some school staff, and a couple of parents. They urged the board to approve option B.
A few parents mentioned that they have been talking about the new sports field for so long, their kids have already missed their chance to benefit from it.
"When this project started my children were in elementary school," Means said. "I will continue to be here until I see this sports complex project go through."
It can't be delayed any longer, supporters urged.
Board Vice President Vicki Snell is not happy the process took so long, but it worked, she said. It's less than what they originally began with, but it's better, she noted.
"We started with one project and we came out with another project," Snell said.
Most of the students who spoke to the board Tuesday were juniors and seniors, who are also likely will graduate before they can make use of the new facilities.
Snell added that appreciates that the students are working to understand the impact on the neighbors.
Ron Rubino, president of Eastbluff Homeowners Community Association, said the HOA supports the school and appreciates the needs of the student athletes. But it's a two-way street. CdM should respect the needs of the residents, he said.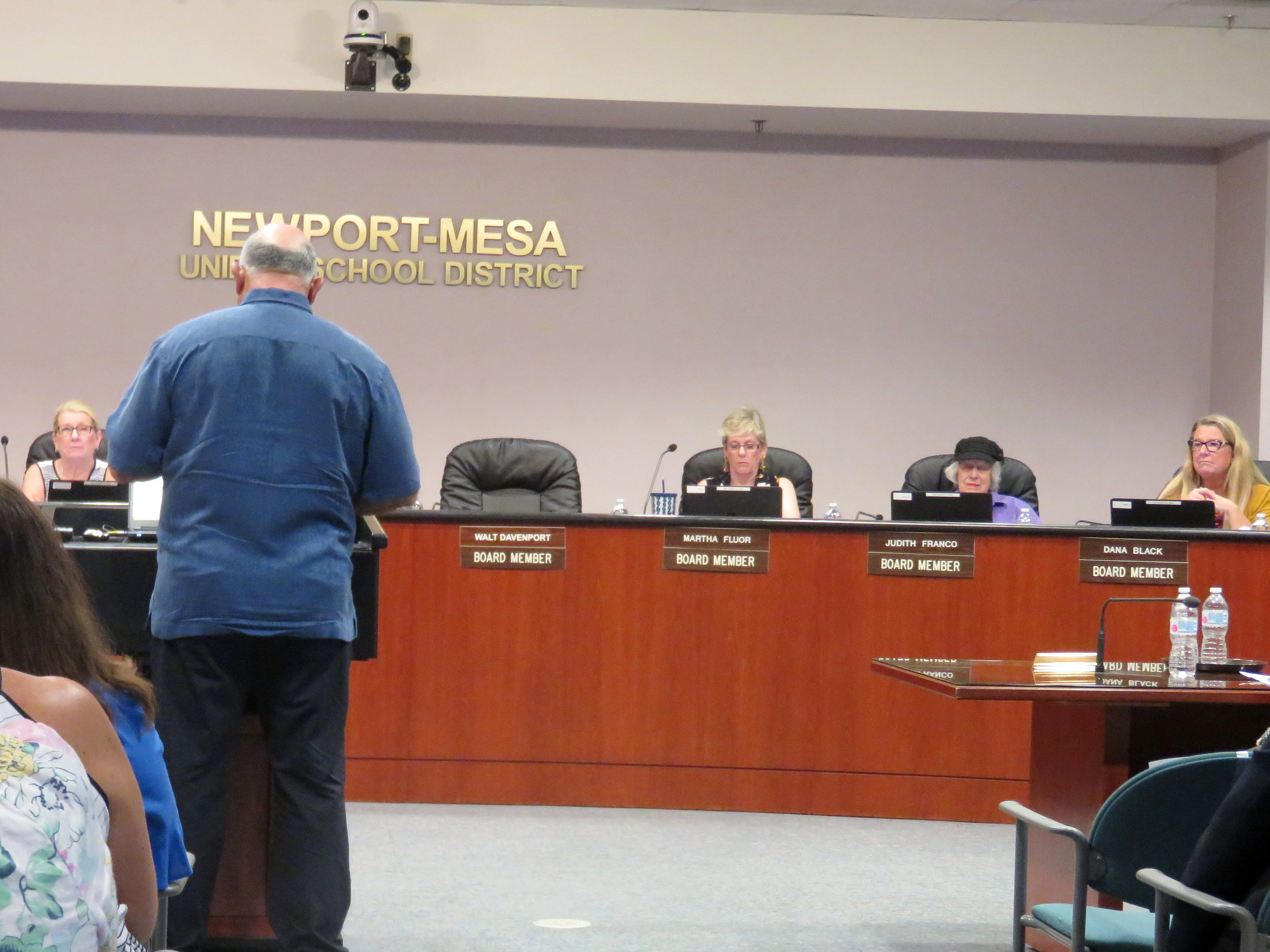 Another critic said the project keeps getting expanded to the detriment of the community. The school is acting in "bad faith" to its neighbors, he said.
A main concern of neighbors are the 80-foot lights.
Diana Blaisure, Eastbluff resident and member of Newport Citizens for Responsible Growth, said the community group suggested two artificial turf fields, but with no lights.
Rubino also opposed the inclusion of lights. They will impact views and encourage noise during evening events, he noted.
The district can achieve their objectives without the lights, he continued. Students can limit their practice and games to before sunset, he suggested.
"It's a matter of scheduling," Rubino said.
A CdM parent commented that sunset time changes throughout the year, sometimes coming very early in the evening depending on the season. This would make it scheduling difficult and create other problems.
"The district did not fully evaluate other viable options," Rubino said.
Blaisure agreed that there are other, more practical alternatives, something that is "tailored" for the school and community, she said.
Although she is encouraged by the school district's plan to improve the good neighbor policy, as well as the idea to expand and continue the working group dedicated to the issue.
Board member Charlene Metoyer said as former Eastbluff Elementary School principal, she understands the need for a modern field with lights. Without light it can be "dark and scary," she said.
She also understands the impact on the neighbors, she added
"It's a tough decision," Metoyer said. But she feels the board needs to act and "always to do what's best for the kids."
A number of project supporters emphasized the importance of lighting the sports fields.  
Lighting both fields will allow the school to stagger practice times. Advocates argued that this will spread out the traffic and noise since students will stay on campus instead of drive to another field, as they do now.
A primary objective for the school district is to "bring the students back home," for athletic practice and games.
Several people also pointed out that the lights are also important for safety reasons.
The higher the pole also means less glare there is for neighbors, explained PlaceWorks engineering firm consultant Dwayne Mears during his presentation.
Regarding noise, the school has agreed to a 55 decibel limit at the property line. To help mitigate noise, signs stating that use of air horns, unapproved audio amplification systems (like a speakerphone), bleacher foot-stomping, and boisterous activity in the parking lots upon exiting the field, are all prohibited during events.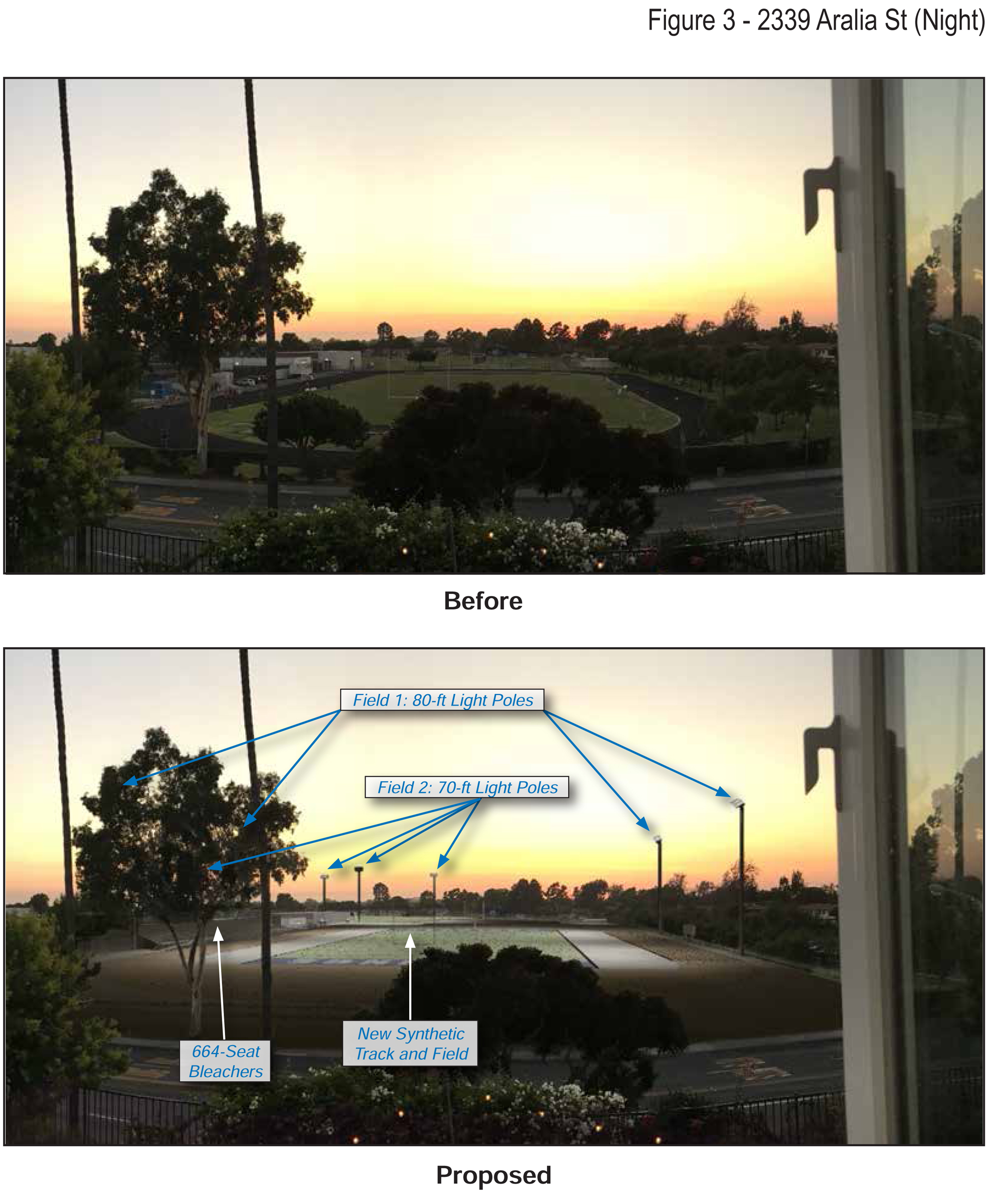 They also plan to develop and enforce a good neighbor policy for events on the sports field.
"We have no intent to try and disturb the community," said Edward Jacobs, a CdMHS senior.
Corona del Mar High School ASB president Max Johnson also pointed out that CdM is the last school in the district to receive adequate facilities. California Interscholastic Federation, the governing body for high school sports, requires a turf field in order to host athletic events, he said.
"It's imperative that we have this to be competitive with all the other schools, not only within the district but within the state," Johnson said.
Don Grable, CdMHS athletic director, agreed and said it's time to update the playing field for student athletes.
"The needs and numbers of our athletes are different than they were 20 to 50 years ago," Grable said.
There are 25 different sports at CdMHS, and 11 of those programs use the field. Within those 11 sports programs are 31 teams, he added. That doesn't include the middle school sports, he added. They all share the current limited field space, Grable said.
"We need to remedy this now," Grable said. "We have a 50 year old school, let's think of the next 50 years."
Mears also mentioned the history of the school. CdM High School opened in 1962 and the Eastbluff community was constructed in 1964.
"It looks very, very much like it looks now," Mears said.  
Parent and Harbor Cove resident Ruth Kobayashi agreed that the students need modern facilities. The concerns are valid, but they can – and will be – mitigated, she added.
"The idea that those concerns can threaten an important project for a school is actually quite astounding," Kobayashi said. "Change can be hard, but fear of change cannot be a reason to keep from moving forward."
For more information, visit nmusd.us/CdMField.