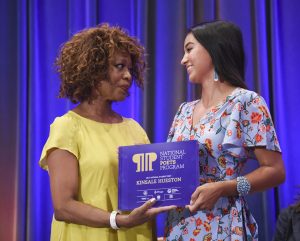 St. Margaret's Episcopal School senior Kinsale Hueston, 17, of Corona del Mar was appointed one of five National Student Poets during a ceremony held on Aug. 31 in the James Madison Memorial Building at the Library of Congress in Washington, D.C.
The event featured a pinning ceremony, a reading of original works by each student, and remarks from 2016 National Student Poet Joey Reisberg and 21st U.S. Poet Laureate Juan Felipe Herrera.
Kinsale, her family, and her St. Margaret's English teacher Jamie Bunch attended the ceremony, which was livestreamed by the Library of Congress.
The National Student Poets Program is the country's highest honor for young poets presenting original work. The program is a partnership of The President's Committee on the Arts and the Humanities, the Institute of Museum and Library Services, and the Alliance for Young Artists & Writers.
Kinsale is one of five outstanding youth poets from across the United States to be honored in 2017 by the National Student Poets Program. Each poet represents five different regions of the country; Kinsale will represent the West.
Kinsale is an enrolled member of the Navajo Nation and focuses her work on modern issues facing her tribe including violence against women, the loss of native languages, exploitation of resources, and racial prejudice.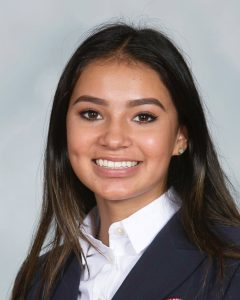 She is actively involved as an intern for the Navajo Nation Department of Justice and is the founder and president of her high school's Native American Culture Club, and a tutor and member of the Spanish National Honor Society.
In her free time, Kinsale enjoys playing lacrosse on her school's varsity team, acting in original native plays, and crafting ukulele mixtapes with friends.
The National Student Poets were chosen out of 200 national gold and silver medalists in the Scholastic Art & Writing Awards. More than 20,000 works of poetry were initially submitted to the Scholastic Art & Writing awards. Kinsale received a national gold medal for her poem "Grandmother" which dealt with challenges facing present-day Navajo culture.
As part of her duties as a National Student Poet, Kinsale will serve as a literary ambassador and will share her passion for poetry and the literary arts with her community and at libraries and museums throughout the western region through service projects, workshops, and public readings.
SIDEBAR 
Grandmother
By Kinsale Hueston
Grandmother pushes her lips together,
Two wild canyons overgrown with shadows and sandstorms.
Something smells sour—
Milk, or mutton, left out in the sun too long.
Come, she motions with her hand,
A willow branch bent slyly by the western wind.
Her fraying blue blouse feels cool and stretched like
Frybread dough
Under my small fingers. I pry a loose ball of
Tangled cotton from her left shoulder.
She asks me to speak, she commands,
In a voice that warbles like the canyon's rivers.
I remember shadows cast across the mesa at dusk.
Ya'a'téé, I whisper, humming against her ear.
Eyes so brown they seem blue press moisture upon her
Papery eyelids. Through her gray crown, she cannot hear me;
She floats back to Grandfather, nali, adeezhí.
Smoke pulls at my vision, pulls at her eyes,
Silky gray with age and glistening sorrow.
Empty words die upon empty ears as
The children fall from Grandmother's eyes.
Summer sends angelic sugar peas
Spilling from her womb that will curdle
And crackle in fall.
Sweet peas dance in an August wind,
Wind chimes churning, sweet sheep grazing—
But something is burning—
Our people, or words, left in the sun too long.
Death descends upon cursed vowels,
Oppressed utterers, feverish vibrations
That rise from our defiant throats.
He snatches them up in sharp white jaws, with shivering hands
Soaped and dried carefully with rusting metal—
Cement block teeth glint in the sun—he is not careless,
But greedy, and is bone disguised
In a pilgrim's white cap of impudence.
He met Grandmother when she was young and
Strong from tasting our honeydew songs.
Now she holds my wrists
With clutching fingers, sticky with
Words that escape us.