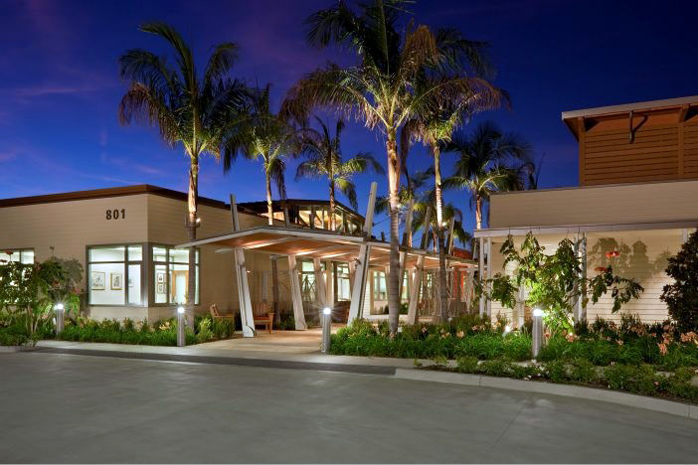 In 1977 Upper Newport Bay became a marine preserve and wildlife refuge. USC beat Michigan in the Rose Bowl, while Apple Computer incorporated. "Fantasy Island" made its TV debut, while "The Brady Bunch" made its TV adieu.  Biologists identified a form of microbial life dating back 3.5 billion years (give or take a decade or two), and Louis Roederer Cristal Brut Millesime Champagne received the esteemed five stars by the world's most refined sommeliers.
Closer to home and just as importantly, 40 years ago OASIS Senior Center opened its doors to Newport citizens, all of who were considerably younger than the aforementioned microbes, and all of whom are rated "five stars" by Celeste Jardine-Haug, longtime manager and architect for most of the programs that have evolved at OASIS over the past 30 years. 
A three-day, 1970s-themed celebration is being planned to reflect the upcoming Ruby Anniversary. Festivities include a root beer float afternoon, a general membership meeting, a pancake breakfast at the throwback price of $1 per person, and an afternoon 1970s-themed courtyard concert. Final dates and times will be announced soon.
The OASIS programs are designed for seniors ranging in age from 50 to 100.
"Some of our programs do have age requirements," Jardine-Haug said. Fitness Center clients must be 50 years of age; participants in the meals-on-wheels program must be 60 (because it is government funded), and those utilizing the transportation option also must be 60 and no longer able to drive. 
"We provide 15,000 one-way trips a year," Jardine-Haug shared, adding that "all social services are free for those 60 and above."
Today, there are 6,000 registered OASIS members, with an average of 500 to 800 individuals visiting the center daily. Among the more than 100 offerings are fee-based classes, volunteer-based classes, card games and other activities, and lectures.
All are described in the monthly "OASIS News," the official guide to the programs and services provided at the OASIS Senior Center. There are more recreational and intellectual options than you can shake a stick at – although one of them literally is shaking a stick, the Longevity Stick, offered free every Tuesday from 9:30 to 10:30 a.m.
Additionally, the Center presents a variety of support groups for Alzheimer's caregivers, bereaving loved ones, low vision patients, and "Parkinson's 101," for those recently diagnosed; plus assistance programs from transportation to legal to health screenings.
Appropriately named OASIS, it wouldn't be the oasis it is without the support of the Friends of OASIS, a nonprofit organization that raises funds to help keep costs low for seniors. Monies are raised through such activities as the annual rummage sale, travel programs, Casino Night, gift shop, general donations and bequests.   Volunteers are utilized in many areas at OASIS, thus reducing operational costs.
Although one might argue that OASIS is a facility, in reality, OASIS is people: volunteers, participants and selfless staff.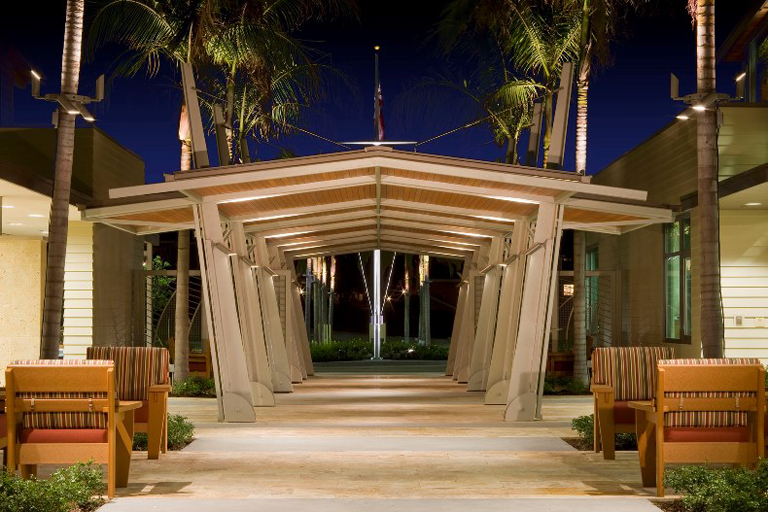 Blessed with inexhaustible verve, former Newport Beach City Councilwoman and Mayor Evelyn Hart (after whom the Oasis auditorium is named) became involved in the planning of the center nearly 50 years ago. At that time, she was a Parks and Recreation commissioner. Making use of the city's first-ever Federal social funding in 1978, the council ultimately decided to create a senior center at the site of a former school, plus build affordable housing (located near Gelson's), which the feds said had to be established in order to receive the dollars.
Who knew back then that Oasis would grow so rapidly and maintain its current numbers?" she asked.
"People go there to improve their lives; OASIS has done that for so many," Hart said. "Some people have told me that 'It's our home away from home.' Entertainment, social activities, and support groups that some seniors need…it's all there for us."
"I call it the best senior country club in the county," said Ed Romeo, 91, a real OASIS force for more than 20 years, ever since he "agreed to go" to an exercise class with his wife, Mary Kathryn. Not only is he currently serving his sixth term on the board of the Friends of OASIS, having been the board president from 2004 through 2007, but he still accompanies Mary Kathryn to those classes at least three days a week.   
"So many things are special," Romeo points out. "OASIS provides opportunities for seniors to participate in so many different intellectual and social activities – especially singles and those who have lost their mates."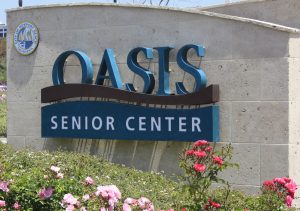 Longtime OASIS members will recall OASIS closed its doors in early 2009 for a $15 million, 18-month renovation. The new OASIS Senior Center reopened in October 2010—about the same time Marilyn Gordon started tending to her OASIS garden plot, an effort of love that provides "bushels of vegetables all year." Gordon is Special Events Chairman for the Garden Club, which, naturally, does revolve around great food. Her leadership role has expanded to chairmanship of the profitable annual Rummage Sale; she now co-chairs the production (an "all-year-long effort") with Scott Paulsen, himself a longtime OASIS energy source.
Said Felicia Wiseman, 84, the senior columnist for the Newport Beach Independent, "Being single, OASIS fills up empty time in my life." Some of that time is filled playing "Texas Hold 'em," a card game in which she often walks away with a enough chips to make others wonder if she really was a Vegas card sharp. 
Dick Grabow started his volunteering nine years ago, originally delivering meals-on-wheels. A few years later, he joined the Fitness Center, which he says has been "extremely valuable in helping me to recover from knee surgeries."
A retired Colonel in the Army Reserve, Grabow has become active in the OASIS Veterans' Group, which has led to his being nominated for the membership on the OASIS Advocacy Board. Because of that membership, "I have become aware of all the great activities that make this Senior Center one of the best in the nation," he said.
Finally, if you've been wondering why OASIS is always written in all-caps,  Jardine-Haug explains that those letters are acronymic for Older Adult Social and Informational Services.
For information, go online to newportbeachca.gov/OASIS. Or better yet, feel the dynamics of OASIS by visiting the senior center at 801 Narcissus Ave., Corona del Mar, five blocks north of that acronym of a highway, PCH.