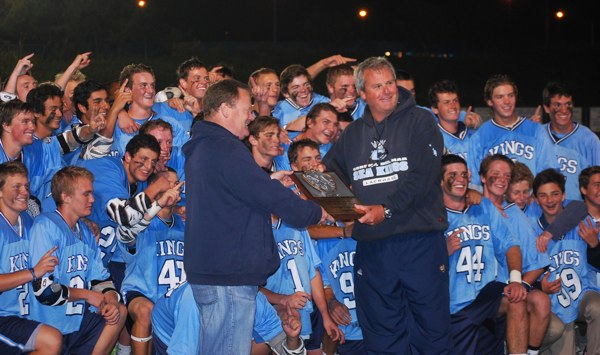 Corona del Mar High School's varsity boy's lacrosse team captured its first Orange County championship on Wednesday evening by defeating San Clemente High School, 9-6,  before a stadium full of cheering fans at the Dana Hills High School field.
It took several minutes before the first goal was scored, but Hunter Molnar of CdM scored one and then another goal against the SC Tritons. Fighting back were Robbie Burns and Jordan Riggs of SC, scoring a goal apiece.
CdM dominated the second quarter. Brett Nelson, Michael Keasey, Chris Von Der Ahe, Connor Canale and Jack Ortlieb each made a goal. SC could only answer with a second goal by Burns.
Halftime at the game was interrupted briefly. Costumed characters and scantily clad young men wearing masks zoomed down a stadium ramp and ran onto the field while whooping it up and carrying signs with team slogans. They fled the scene as quickly as they arrived.
During the third quarter, SC senior attack Jay Kassity scored a goal. CdM was silenced during the quarter, failing to make a point but not losing any more ground.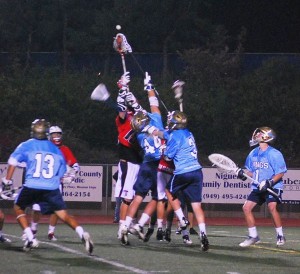 CdM's Keasey and Molnar each scored again in the fourth quarter, as did SC's Burns and Anderson.
CdM Senior goalie Michael Ortlieb made an impressive 9 saves during the game.
As soon as the game ended, dozens of Corona del Mar fans jumped over the chain link fence onto the field to swarm the CdM team. Then CdM Director of Lacrosse G.W. Mix gathered his team together to accept their trophy.
"I feel great, I feel real good," said Mix. "The kids did a terrific job."
Ortlieb said, "I feel great. It's an accomplishment. But we still have one more step on Saturday. That's what we're focusing on so we're not celebrating."
At 1 p.m. on Saturday, May 12, Mission Viejo High School will host "The Battle of the Sea Kings" as the CdM Sea Kings play the Palos Verdes Sea Kings in the Southern Section championship game.
"I mean it was great," said Molnar. "We came out firing and we knew we had 48 minutes to play. We didn't play a perfect 48 minutes, but we got pretty close today. We still have one more step to take and I can't wait to take it with my brothers because I've had so much fun playing with these boys for the last four years. It's going to take all of us to win this thing. It means so much to me and everyone I know and the whole coaching staff. Whooo! It's just hard to put words to it."
Junior attack Casey Mix said, "I'm very excited … very, very excited. We played unstoppable on defense. MO (Michael Ortlieb) came up huge with a bunch of saves. Our offense had very long possessions which we didn't do last game. But overall we played really well."
"This whole year has been about proving ourselves," said Keasey. "A lot of teams wouldn't schedule us during the regular season. I really think we just took that to heart and worked hard and came out and showed people what we really can do."
CdM lacrosse staffer Jeremy Sieverts said, "The boys played great. It's easy to get caught up in kind of the emotion of this game. They handled it well. They came out and they got the first goal. We told them to be focused on the second goal…then the next goal and the next ground ball…all the little things that we pretty much preach every day in practice. They did a really great job of that tonight. It showed up all of their hard work from all year, so I'm just happy for them tonight."
SC Assistant Coach Ryan Milligan said, "I'm proud of our guys. I know they played their hearts out. We're young and we'll be back next year. I would not rather be with any other team."
SC Head Coach Glen Miles said, "I'm very, very proud of all the boys. They brought every bit of talent that they have and they did the best they could. We could have capitalized on a few more opportunities than we did.
He pointed to the CdM team across the field and said, "I'm also proud of our brotherhood over there. Michael Keasey did a terrific job and he's good friends with all of us. I'm very proud of him and looking forward to watching his college career."
– By Kathy Ochiai