By Amy Senk | Corona del Mar Today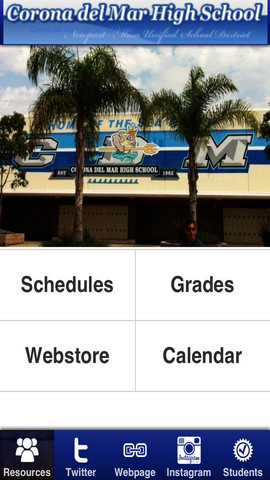 If you're a Corona del Mar High School student — there's an app for that, thanks to junior Kendall Mulvaney.
The app gives access to grades, event updates and the student store. Already, more than 1,000 users have downloaded the app, Mulvaney said.
"The purpose of the app is to make sure students are always in the loop and provide them with access to almost everything they'd need at CdM," she explained in a message. "It is to make students' lives easier and gives quick access to schedules, grades, events and the web store. The Twitter and Instagram features are to make it a more student-friendly app, because, as a student, I know I check those two more than I check my grades!"
Mulvaney said she was inspired when she saw a Tesoro High School app and after spending a few nights learning how to use and work the software she got to work creating the app in October. She has received suggestions  and help from other students since launching the app in late December.
"It is only in the early stages and will be improving throughout this semester," she said.
ASB director Gary Almquist said the app was "the beginning of a new way of life for us all" and a great step toward the future that Mulvaney has made possible.
"The feedback I have received is overwhelmingly positive," she said. "Most students find it very useful and have told me that it comes in handy, which was the goal… I also think it creates more of a closer knit community, allowing us all to be connected and kept up to date on our school and what's going on."