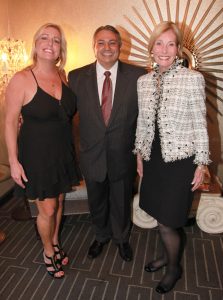 Most people know The Center Club as the membership facility adjacent to the Segerstrom Center, but once a year the Center Club opens its doors to the public for its annual Charity Classic, dubbed "Hops & Vines" to showcase the club's focus on boutiques brews and fine wines.
More than 300 packed the club last month for the 10th annual Charity Classic and helped raise nearly $30,000, which set new records for the event's attendance and fundraising efforts.
The event honoree was community philanthropist and previous Chair of the Club's Board of Governors, Victoria Collins, Ph.D, of Newport Beach, who noted that the first wedding ever hosted at the Center Club was for her and husband David in 1985.
Long-time Newport Beach community hero Ralph Rodheim, who is battling ALS, and wife Penny, were also recognized.
Event sponsors were headed up by Stifel — Irvine Spectrum, Isabel & Paul Evan Greenwald, Humphrey & Associates, Citizens Bank, HBLA CPAs, Lou Delmonico, Liza and Stuart Crasser, Pentad Financial Services, LLL, Sunup Group, Inc. Richard Van Meter, MD and Bart Zandbergan, CFP.
Proceeds from the event benefitted Augie's Quest to Cure ALS and the ALS Therapy Development Institute, Anaheim Family YMCA, Center Club OC Cares, Employee Partner Care Foundation, Women Helping Women, and the YMCA of Orange County.
The evening featured multiple gourmet food displays courtesy of Center Club Executive Chef Lewis Butler, an over-the-top dessert station, and some truly terrific beers and wines.