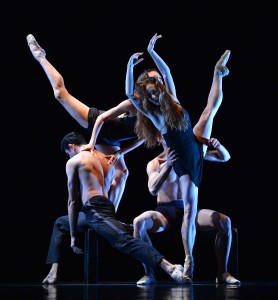 It's a sultry, albeit breezy, July afternoon at UCI's Claire Trevor School of the Arts, where the creation of four fresh dance works for this year's National Choreographers Initiative is underway.
The air inside the studio fairly shimmers with possibilities as Sarah Tallman's dancers explore her newly envisioned movement sequences. Classical arabesques morph into swiveling hips and twisted torsos, conjuring organic shapes and a sinuous, ethereal quality. Barely one week into the three week process, and already the piece has a palpable presence.
A few doors down, dancers move as swiftly and elegantly as fencers in Nicholas Blanc's rehearsal, where masculine energy abounds and they ably mark what they've learned so far of what promises to be a lively, narrative work.
It's all looking good, but the question is: how much of this will make it into NCI Discovery 2015's works-in-progress showing at Irvine Barclay Theatre on July 25?
"You just never know," smiled Artistic Director Molly Lynch (a long-time Corona del Mar resident) when we sit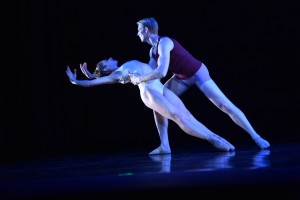 down to talk during a brief break. "They (the choreographers) come in with ideas and then they change and develop in rehearsal. The feeling here is that there's freedom to make choices and change your mind, to decide what to stick with and what to discard."
Along with some invaluable down time for the choreographers to reflect on their work, that artistic freedom is a rare commodity, yet an important part of the choreographic process, she adds.
In combination with the dancers' adventurous spirits and NCI's supportive atmosphere, the annual project that Lynch founded eleven years ago has flourished, receiving well-deserved acclaim as well as a recent award from the National Endowment for the Arts.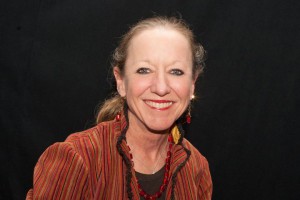 Each summer, Lynch invites four noted choreographers and sixteen professional dancers to participate in NCI's intensive three week process. That culminates in a one-night only showing of the four new pieces. This year's workshop, which runs July 7-26, features works by choreographers Norbert de la Cruz and Jimmy Orrante in addition to Tallman and Blanc, as well as dancers from companies as diverse as Sacramento Ballet, Kansas City Ballet, and Nashville Ballet.
"I'm looking for variety, at what is interesting choreographically and then from an audience standpoint what makes each stand out individually," says Lynch, who chose this year's four choreographers from a field of 65 applicants.
Well-known for her dance vision both locally and afar, Lynch reflected that she has come to trust herself and the choices she is making for NCI. An award-winning choreographer as well as the former Artistic Director for Ballet Pacifica, Lynch is currently an Associate Professor of Dance at UCI in addition to her role as Artistic Director for NCI.
"Nicholas is working on a story, there's a psychological motivation for Sarah and Norbert, and Jimmy's is what I would call contemporary ballet. They're all working on a lot of material and have started doing some layering, but are not sure of the order or of where it all will end up."
"The variety makes it less competitive for them," she continues. "Then you have to go with what happens when they come here. The dynamics when they are together, as they go out to dinner or go to the beach, that's an interesting situation. They inspire each other, feed off each other… they all have different voices and different directions. The whole idea of the project is about the process, so we're focusing on that rather than the end product."
NCI DISCOVERY 2015 will be presented on Saturday, July 25 at 8p.m. in Irvine Barclay Theatre. There will be a Q&A with the choreographers after the performance moderated by Lynch.
For further information go to nchoreographers.org or thebarclay.org.