Hundreds gathered at the Hyatt Regency Newport Beach last week to honor those who protect and serve the city, the Newport Beach Police Department.
The 43rd annual Police Appreciation Breakfast, hosted by the Newport Beach Chamber of Commerce and the Commodores Club, was held March 28 at the hotel. The event was sponsored by the Maseeh family and Hoag Memorial Hospital Presbyterian.
The event featured a video that showed a "behind-the-scenes" look at what officers are working on during the night shift, titled "The Boots on the Streets, While Newport Sleeps."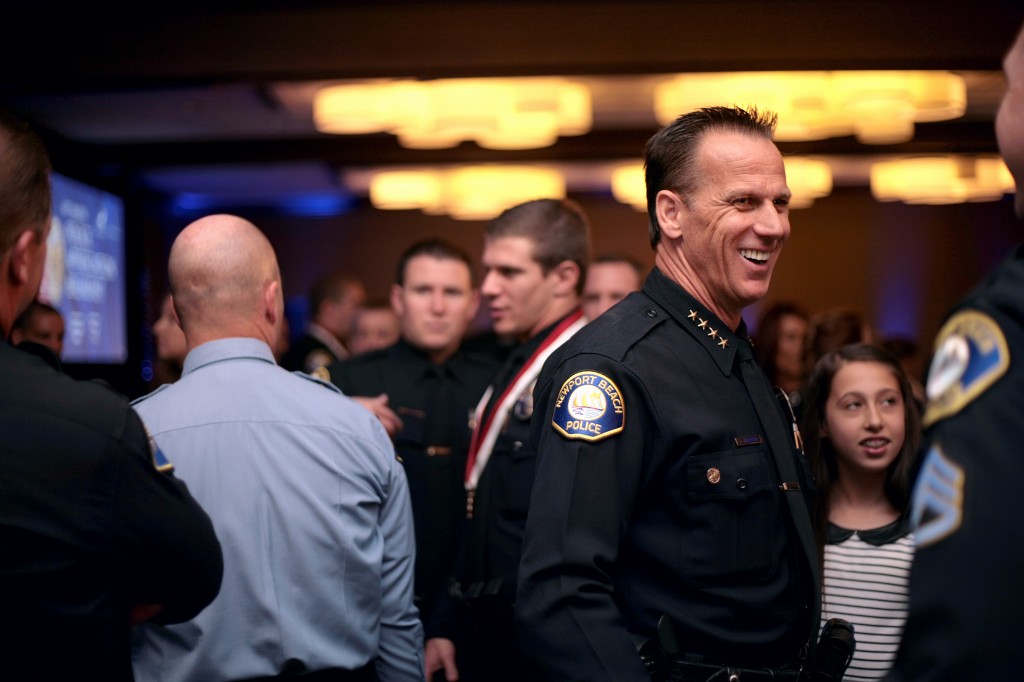 The video opened on NBPD Chief Jay Johnson, who noted that 2013 had historic low crime rate for the city.
"That was due in large part, I believe, by the hard work of the men and women at the Newport Beach Police Department," Johnson said in the video. "I could not be more proud of the work that they do, day-in an day-out."
Nominations for the Police Department Annual Awards are collected by committees for each award category, according to an NBPD press release. Nominees are discussed by committee members and then recommendations are submitted to the Chief of Police for consideration.
Among those honored were Steven Schogel as Reserve Officer of the Year, Kyle Markwald as Officer of the Year, Desiree Basich as Civilian of the Year, Lloyd Whisenant as Supervisor of the Year, and Stan Bressler as Volunteer of the Year.
The Award of Merit was given to officers Mayra Aguayo, Andrei Bratiloveanu and Jonathan Sunshine. The Lifesaving Award was given to Sergeant Rachel Johnson, and officers Joseph DeJulio, Robert Bennett, Matthew Wood, Dennis Maisano, Jonathan Jarema and Neal Schuster.
ABC7 Eyewitness News Orange County Bureau Chief Eileen Frere announced the winners and spoke briefly about each incident that earned them the award.
Johnson and Mayor Rush Hill presented the awards to the honorees, shaking their hand and posing for a photo with each.
Event chair Carol McDermott gave opening closing remarks and Chamber President and CEO Steve Rosansky updated the audience on chamber news. Hill also spoke.
Other attendees include council members, city staff, police and fire authorities, chamber officials and other notable community leaders.
During Johnson's speech, he praised the support the police department gets from the community, city council and city staff.
He spoke about the departments stats from 2013: More than $2.1 million worth of property stolen and recovered, 215,406 calls answered by dispatchers and 3,190 arrests.
About 90 percent of crimes in Newport Beach are property crimes, Johnson continued. Most of that is property left unattended or in unlocked vehicles, he explained.
"Lock your car. All you have to do is push this button," he joked as he pulled out a car key. "Push the button and 54 percent of those crimes will go away."
He also recommended to keep valuables out of sight, seeing an item of value left in a car is like bait to a criminal, he said. To prove his point, police department staff checked the cars in the parking lot of the hotel to see what valuables were in plain sight.
"Let's break down the bait that's out there," he said.
Staff found, in plain sight: 19 pairs of sunglasses, 14 purses, 15 shopping bags, six GPS systems, six pairs of high heeled shoes, six dry cleaned suits, five luggage bags, four backpacks, three smart phones, one laptop, one wallet, one checkbook and some tennis equipment. There were also several unlocked cars.
He's glad residents feel safe in the city, "but we can't let our guard down," he said.