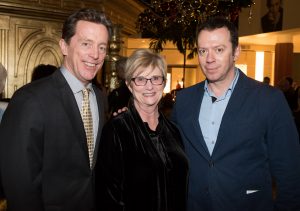 By Christopher Trela | NB Indy
 After a dazzling opening night production of ABT's "The Nutcracker" at Segerstrom Center, the cast and VIP attendees went across the street to South Coast Plaza's Jewel Court where Chanel and South Coast Plaza hosted an elegant after-party.
The "Nutcracker" production is becoming an Orange County holiday tradition—this is the second year for ABT's production (choreographed by Alexei Ratmansky), and plans are for it to return again and again.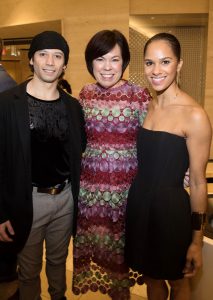 The opening night cast included Misty Copeland as the Clara the Princess and Herman Cornejo as the Nutcracker Prince.
South Coast plaza has hosted many of the ABT opening nights in Jewel Court. This year, Jewel Court held a towering Christmas tree with a base of gold Nutcrackers.
Among the guests were Director of Watches and Fine Jewelry for Chanel in North America Michael Howard, South Coast Plaza's Executive Director of Marketing Debra Downing, Segerstrom Center President Terry Dwyer and Executive Vice President Judy Morr (who programs the Center's internationally acclaimed dance series), ABT Artistic Director Kevin McKenzie, and The Nutcracker's choreographer Alexei Ratmansky.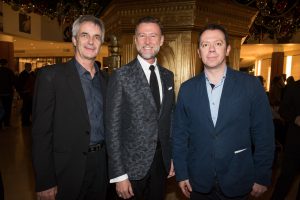 Spotted in the crowd were Terry and George Schreyer, Connie and Peter Spenuzza, Cynthia DeBaun and Steve McGlinn, Betty and S.L. Huang, and students from the Center's ABT William J. Gillespie School, who danced in the production.
Tray passed appetizers and Italian cuisine came courtesy of Quattro Caffe.
Debra Downing welcomed attendees to the reception by saying that "you dancers are so incredibly passionate and talented, it's a feast for the eyes. We are so fortunate to have Segerstrom Center for the Arts and American Ballet Theatre right here in our community. It's a pleasure to partner with both of those incredible institutions."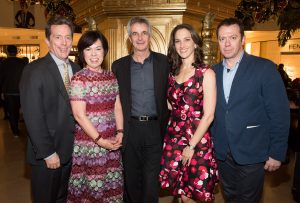 Downing then introduced Michael Howard of Chanel, who noted that Coco Chanel had been a patron of the arts so he was delighted to partner with Segerstrom Center and ABT as a sponsor of "The Nutcracker" production.
Segerstrom Center President Terry Dwyer told the crowd that these fantastic productions require a lot of support from people such as Bill Gillespie, a board member of ABT and supporter of the arts in orange county, and from the board of Segerstrom Center, many of whom were in attendance.
ABT Artistic Director Kevin McKenzie thanked "The Nutcracker" choreographer Alexei Ratmansky, and praised the partnership between ABT and Segerstrom Center, which he dubbed ABT's "second home."
Dwyer concluded the remarks by thanking everyone in attendance for supporting great dance in Orange County.