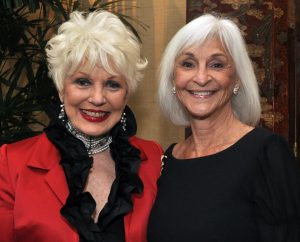 The Ritz Restaurant was an Orange County culinary institution in Fashion Island that for more than three decades managed to weather changing tastes and styles while serving upscale cuisine in an old-school environment.
Among the many organizations that utilized The Ritz for its special events was the Women of Chapmen support group, which held its annual Christmas at the Ritz luncheon there every December.
The Ritz closed its doors in early 2014, but that did not deter Women of Chapman from carrying on the tradition. They moved a few hundred feet down the road and began to hold their Christmas at the Ritz luncheons at the Island Hotel.
On Saturday, Dec. 10, Women of Chapman marked 30 years of Christmas at the Ritz during their annual luncheon, again held at the Island Hotel.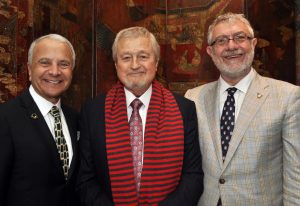 More than 375 guests were met with a receiving line featuring new Chapman President Daniele Struppa (who replaced longtime President Jim Doti earlier this year), and of course, Santa Claus. The reception featured carolers, champagne and martinis.
Once the doors to the ballroom opened, guests were dazzled by the site of a room full of nutcrackers of all sizes, and festive holiday décor. The signature "Christmas at The Ritz" wreath was the main focus in the ballroom along with Christmas trees on each side of the ballroom, and a colorful sleigh, overflowing with wrapped gifts.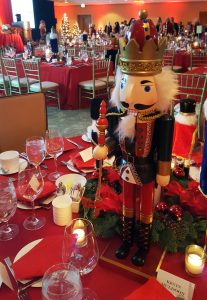 Women of chapman President Barbara Eidson welcomed attendees, and reminded everyone that "today's proceeds will be dedicated to our $1 million pledge to support the University's Marybelle and Paul Musco Center for the Arts. We also support our donation to Dodge College of Media Arts, and a $1 million pledge for Schmid College of Science and Technology, which is under construction."
Eidson recognized many Chapman University notables in attendance, including Dodge College Dean Bob Bassett, Executive Director for Musco Center Richard Bryant, Founding Dean and Artistic Director of Musco Center William Hall, and Chapman President Emeritus Jim Doti.
"And let me introduce someone who will be sharing many more lunches with us, new Chapman President Daniele Struppa."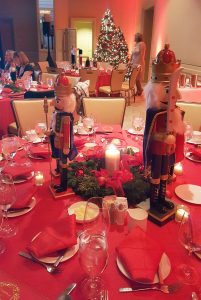 "Of all the events, this is the most fun, beautiful and elegant event I ever go to," said Struppa with his charming Italian accent. "The Women of Chapman are the most fun, beautiful and elegant. Doti is happy he has transferred all the headaches to me, but today when he came through the receiving line, I saw his eyes widen because I was the one taking the pictures with all these good-looking women. Thank you for everything you do for the University. Merry Christmas and much success for the year to come."
The lunch menu started with the classic Ritz Egg, which originated at The Ritz: smoked salmon and scrambled eggs stuffed into an egg shell and topped with caviar.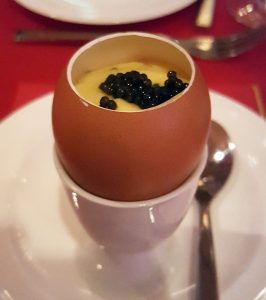 Next came wild mushroom "cappuccino" soup, followed by an entrée of filet mignon draped with Diane sauce and fingerling potatoes. Dessert was a warm winter pear cheesecake baked in crispy phyllo with caramel sauce.
During lunch was an informal fashion and jewelry presentation by Saks Fifth Avenue, South Coast Plaza, and Graff Diamonds. A live auction and opportunity drawings for 20 exclusive prizes concluded the event.
Net proceeds totaled a recording breaking $300,000.
Honorees included Dori de Kruif, founding chair of the event (she also chaired the fifth and 10th benefits), as well as Charlene Prager, who with her late husband Hans Prager (owner of The Ritz) created the holiday fundraiser in 1987. Both women received engraved Waterford Christmas trees.
And, in honor of Women of Chapman's 30th anniversary and the group's 27 years at The Ritz Restaurant, George Argyros, Jr. underwrote a table for former Ritz Restaurant wait staff.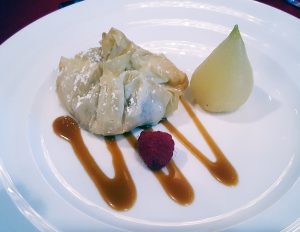 Christmas at the Ritz committee included Event Chair Donna Bunce, President Barbara Eidson, and committee members Donna Bianchi, Donna Calvert, Leslie Cancellieri, Janet Curci, Cynthia DeBaun, Kathy Hamilton, Marci Hollander, Sue Hook, Nora Jorgensen Johnson, Lauren Johnston, Anne Manassero, Kristin Martin, Mona Lee Nesseth, Charlene Prager, Kristen Rhynerson, Eve Kornyei Ruffatto, and Christine Sullivan.
Major Underwriters included 30th Anniversary Patrons ($50,000) Julia & George Argyros; Grand Patrons ($25,000) Janet L. Curci, Ruth Ann Segerstrom Moriarty, Marybelle & S. Paul Musco, Deedee & Don Sodaro; Honorary Chairmen ($10,000) Joann Leatherby, Kim Smith and the Smith/Walker Foundation.