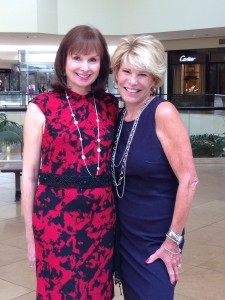 Angelitos de Oro, a women's auxiliary group based in Newport Beach that supports Big Brothers Big Sisters of Orange County's High School Bigs program, is once again partnering with South Coast Plaza for the 13th Annual Angelitos Card fundraiser that runs through Tuesday, Oct. 14.
More than 100 boutiques and restaurants are offering a 20 percent savings when the Angelitos Card is presented.
The Angelitos Card can be purchased for $60 at many of the participating South Coast Plaza shops, and at any South Coast Plaza concierge desk.
Through the fundraising efforts of Angelitos de Oro in 2013, $285,000 was raised for Big Brothers Big Sisters of Orange County.
Since its inception in 1961, Angelitos de Oro has donated more than $5,000,000 to Big Brothers Big Sisters of Orange County.
The revenue generated by the sale of the Angelitos Card goes directly to support the High School Bigs program that provides high school students as mentors to elementary school students in Orange County schools.
The program reaches a group of children in Orange County who are at high risk of educational, social, emotional and behavioral difficulties, but may not necessarily have access to a community-based program for the support they need.
In some cases, the school-based mentoring program may be reaching higher-risk children and families. Supporting these children at their school sites provides the convenience and safety that makes parents and educators feel comfortable, and yield some of the same benefits to youth as the traditional community-based program.
The funds raised by the Angelitos Card truly make a difference in the lives of children in Orange County.
For more information on Angelitos de Oro, visit angelitosdeoro.org.
For more than 100 years, Big Brothers Big Sisters has operated under the belief that inherent in every child is the ability to succeed and thrive in life. Most children served by Big Brothers Big Sisters live in single-parent and low-income families, or households where a parent is incarcerated. As the nation's largest donor and volunteer supported mentoring network, Big Brothers Big Sisters makes meaningful, monitored matches between adult volunteers ("Bigs") and children ("Littles").
For more information, visit bigbrooc.org.