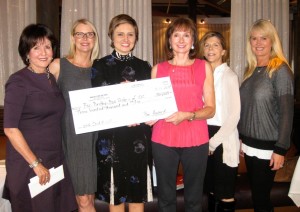 Angelitos de Oro, a Newport Beach-based volunteer women's auxiliary group, raised $300,000 for Big Brothers Big Sisters of Orange County during its 13th annual Angelitos Card fashion fundraiser held during October at South Coast Plaza in Costa Mesa.
The donation was presented on Nov. 24 at Bayside Restaurant in Newport Beach.
Angelitos de Oro's sole purpose is to raise funds for Big Brothers Big Sisters of Orange County's "High School Bigs" mentoring program. They have donated more than $5M to the nonprofit since the auxiliary's inception in 1961.
A partnership between Angelitos de Oro and South Coast Plaza, the Angelitos Card program consisted of more than 100 boutiques and restaurants at South Coast Plaza who offered a 20 percent saving to Angelitos cardholders for one week. The card was sold for $60, and all proceeds benefitted the nonprofit.
Big Brothers Big Sisters of Orange County provides over 2,400 children facing adversity with professionally supported one-to-one mentoring relationships to change their lives for the better. Youth ("Littles") are matched with volunteer mentors ("Bigs") to develop positive relationships that have a direct and lasting effect on their lives.
For more information, visit bigbrooc.org.