Following another successful Race for the Cure this year, Susan G. Komen Orange County recognized its top 2014 Race teams at a private reception on Nov. 18 in Newport Beach.
More than 600 Race teams collectively raised over $765,000 (39 percent of the signature event's overall 2014 fundraising effort) to support Komen's mission of ending breast cancer forever.
Teams were comprised of corporate groups, nonprofit organizations, friends and families.
"Race teams play a vital role at our annual Race for the Cure," said Lisa Wolter, executive director of Komen Orange County. "We are proud to honor such wonderful groups who work tirelessly to raise funds for local breast health services so we can continue fighting this devastating disease."
Among the winners: The Perpetual Trophy went to Bank of America/Merrill Lynch Team, which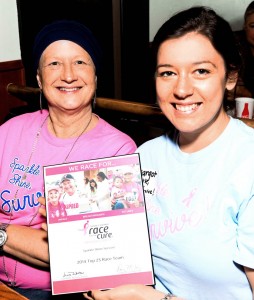 raised $30,000. Rookie of the Year Award (sponsored by Angels Baseball) went to Sparkle Shine Survive!, a new team that raised nearly $14,000. The group was led by team captains Danielle and Margot Tyson. The Largest Race Team went to CHASE the Cure, with 606 team members. The team raised more than $7,500.
Race for the Cure is held in Newport Beach every fall. For more information, visit KomenOC.org.