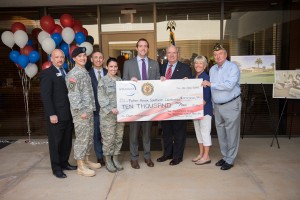 In April, Appearance Center of Newport Beach presented a $10,000 donation at their "Beauty and the Brave" event to honor its staff veterans and their charity of choice: Fisher House Southern California, Inc.
During the month of March, ACNB collected direct patient donations and gave back 10 percent of proceeds from non-surgical cosmetic services, which raised $5,000 and was doubled by former USMC Mike Lipscombe, Donation Chair for American Legion, to total $10,000.
The donation went directly towards building a Fisher House in Long Beach, which is scheduled to be completed by 2016. This generous donation will support the Veteran Long Beach Healthcare System by providing homes where military and veteran families can stay at no cost while a loved one is receiving treatment.
ACNB wanted to find a way to thank the Fisher House Southern California, Inc. for all of the honorable work they have done for our nation's veterans and for the community. Steven M. Daines, MD, the Medical Director of the Appearance Center of Newport Beach stated, "We wanted to find a way to touch veteran's lives, and what better way to show our appreciation than to provide a place for their families to stay during a medical crisis."
They are a proud supporter of the United States Military and currently have two Medical Assistants, Jack Yang and Mica Kleminsky, who spent a significant amount of time serving our country overseas.