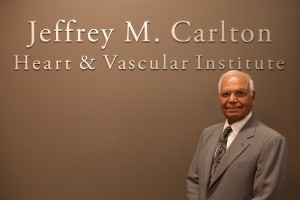 Hoag Hospital Foundation unveiled the newly-renamed Jeffrey M. Carlton Heart & Vascular Institute at Hoag Hospital Newport Beach on Tuesday, March 25, at a gathering of Hoag donors and supporters.
The renaming of the institute honors the unprecedented generosity of the late Jeffrey Carlton who donated an irrevocable estate gift to Hoag last year, currently valued at $53 million.
Robert Braithwaite, Hoag president and CEO, called Mr. Carlton's generosity transformational. "This gift – the largest in Hoag's history – will improve the lives of people in Orange County and around the globe, and we are deeply grateful," said Braithwaite. "The first $15 million of the funds are being used to advance care and ensure Hoag's continued status as a leader in innovative cardiovascular diagnosis and treatment."
During the event, the first-ever Jeffrey M. Carlton Endowed Fund for Cardiac Non-Invasive Imaging and Heart Valve Care in honor of Dr. Pravin M. Shah was announced.
The creation of this endowed fund recognizes and thanks Pravin M. Shah, M.D., medical director of Hoag's Nancy & Bill Thompson Heart Valve Center, Noninvasive Cardiac Imaging, and Academic Programs, for his leadership, and allows for the on-going recruitment of individuals to lead clinical innovation.
A world-renowned medical leader and widely regarded as the "father" of modern echocardiography, Dr. Shah has profoundly affected the development and direction of the cardiovascular program at Hoag.
Recruited in 1999, Dr. Shah co-launched a pioneering collaboration that established Hoag as one of the top mitral valve repair centers on the West Coast. His work was a catalyst for the development of the Nancy & Bill Thompson Heart Valve Center, established in 2006.
Dr. Shah expressed his gratitude for Mr. Carlton and shared what his father once told him, "always be kind to strangers you never meet, for a stranger you never meet may profoundly affect your life. Mr. Carlton's gift will transform the future of healthcare for our community and impact so many people far into the future."
According to Mike Buxton, trustee of the Jeffrey M. Carlton Estate and current president of Press Forge, "Jeff was very caring about the people around him and he would be very pleased to know that his gift to Hoag is going to touch the lives of so many in such a positive way."
Hoag Hospital Foundation, the philanthropic arm of Hoag, is an integral partner in Hoag's vision to become a trusted and nationally recognized healthcare leader. The Foundation builds lifelong relationships with donors, raises funds and dedicates its resources to further advance the needs of Hoag and those it serves.
Under the direction of a dedicated and volunteer Board of Directors, the Foundation conducts campaigns and programs that generate more than $40 million per year in gifts and pledges. For more information, visit hoaghospitalfoundation.org.
Hoag Memorial Hospital Presbyterian is an approximately $1 billion nonprofit, regional health care delivery network that treats nearly 30,000 inpatients and 350,000 outpatients annually.