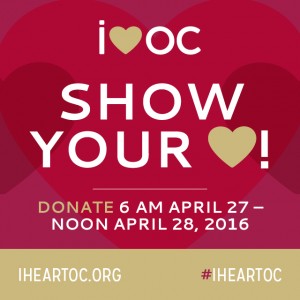 More than 20 Newport Beach-based nonprofits are participating in this year's annual iheartoc Giving Day, hosted by Newport Beach-based Orange County Community Foundation (OCCF). The event kicks off on April 27 at 6 a.m. and concludes on April 28 at noon, which adds up to 30 hours for the local community to give where their heart lives.
The goal of the countywide day of giving is to inspire residents and businesses to show their love for local nonprofits by donating to their favorite charities or causes via iheartoc.org.
"The goal is simple: we want to inspire giving – especially among first-time donors – and raise awareness for exemplary local nonprofits serving our community," said Shelley Hoss, OCCF president. "We learned during our inaugural Giving Day that every contribution, no matter the amount, makes a collective impact for good. We expect a combination of hard work, trusted partnerships and enthusiastic outreach to result in another record breaking iheartoc Giving Day."
Last year, OCCF challenged Orange County residents to "give where their heart lives" during the inaugural iheartoc Giving Day, raising more than $1.8 million through 6,000 gifts to 347 participating nonprofits in just 30 hours.
OCCF aims to exceed those results in 2016, drawing at least 8,000 gifts during its second campaign. And with 415 nonprofit organizations participating this year, Orange County donors will have plenty of opportunities to support the causes closest to their hearts.
The iheartoc Giving Day will utilize an online platform with searchable profiles of participating nonprofits at iheartoc.org. From any smartphone, tablet or computer, donors can make tax-deductible contributions to their favorite nonprofit during the 30-hour online giving marathon.
Newport Beach Nonprofits participating this year include Academies for Social Entrepreneurship, Environmental Nature Center, Friends of Harbor, Beaches and Parks, Inc., Hoag Hospital Foundation, Masters Program for Women, Newport Banning Land Trust, Newport Community Counseling Center, Newport Harbor Educational Foundation, Orange County Children's Book Festival, Paw Prints in the Sand Animal Rescue, Inc., Project Access, Inc., Queen of Hearts Foundation, Team AMVETS Dept. of CA Service Foundation, The Orange County Hispanic Education Endowment Fund, Tides Center/Marine Education Project, Wonderfully Made Baby Blankets, Newport Bay Naturalists and Friends, Successful Survivors Foundation, Crystal Cove Alliance, and Lovebugs Rescue.
To learn more about iheartoc Giving Day, visit iheartoc.org.