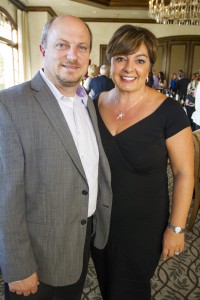 In celebration of 20 years of successfully empowering survivors of domestic violence and changing lives forever, Laura's House will host friends and advocates at its annual gala titled "Shall We Dance" on Saturday, Oct. 4, at the Balboa Bay Resort in Newport Beach.
Guests will enjoy a memorable evening beginning at 6 p.m. with a cocktail reception, followed by dinner, award presentations, silent and live auctions, and dancing.
A video highlighting important milestones throughout Laura's House 20 year history will also be unveiled. Laura's House advocate Donna Pickup, whose husband Dick Pickup is an owner of the Balboa Bay Resort, is this year's Honorary Event Chair.
"Our annual gala has become a very special time for all of us at Laura's House. It gives our supporters an opportunity to come together and recognize our accomplishments and for us to honor some of our many wonderful advocates," said Margaret Bayston, Laura's House CEO and Executive Director. "The gala is a welcomed opportunity to raise funds while we enjoy time together in celebration."
Bayston added that this year's 20th anniversary celebration is the perfect opportunity to honor two organizations that have given so much to the organization.
Haskell & White LLP, one of the region's largest accounting firms, has been a strong supporter since 2005 and will receive the Crystal Heart Award. H&W Managing Partner Wayne Pinnell has been the key advocate for more than 16 years and currently is Chair of Laura's House Board of Directors.
Second honoree is Gibson, Dunn & Crutcher LLP, which will receive the Legal Leader Award. The firm has helped spearhead the legal services program provided to Laura's House clients who require pro bono legal counseling to help them move forward as they attempt to break the cycle of abuse.
Tickets to the gala are $250; table sponsorships start at $3,500. For additional information, visit laurashouse.org/gala or email Andrea McCallister at [email protected]