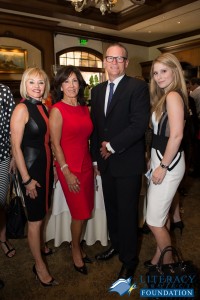 Reading and literacy took center stage at the Literacy Project Foundation's annual fundraising luncheon, "What Dreams Are Made Of," at Big Canyon Country Club. The event drew 275 guests and raised $70,000, double the amount of the previous year.
Tourbillon Boutique and OMEGA were title sponsors. Omega US Brand President Gregory Swift joined General Manager of Tourbillon Boutique/South Coast Plaza Aimee Richter to receive the opening ceremony recognition.
Other honorees recognized for their support and leadership were Ed Arnold, Distinguished Humanitarian; First Foundation/Doug Freeman, Corporate Partner of the Year; Christina Romney, Master Teacher of the Year; and Barbara Shangraw, Dream Maker.
The event program began with the pledge of allegiance given by student Kevin, a graduate at Viejo Elementary School from LPF's reading program, accompanied with Newport Beach Police Department Officer Todd Vinson.
Anaheim Mayor Tom Tait was on hand to present a proclamation to Literacy Project for its continuous work in Anaheim school districts in which LPF raised in excess of $350,000 to service 2,400 at-risk kids and improve their reading skills.
Dr. Sue Johnson, Superintendent of Savanna School District, took the stage to proclaim the "significant increase of state test scores in reading in her district" that was recently documented in The Orange County Register. She stated, "Thank you to Literacy Project for their tremendous contribution as a pivotal intervention program to the most struggling kids to tackle. They provided the 'spark' these kids needed."
Dr. Johnson also presented a Congressional Certificate for "Exemplary Leadership and Dedication to a Great Cause" to LPF's Director of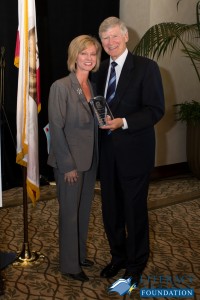 Programming, Kimberly Vig. Her duties include making sure all superintendents, principals, teachers, schools staff, parents and students are coordinated at each site that the Foundation serves. "It's is a big role and she handles it with grace, a friendly personality and utmost professionalism," stated Dr. Johnson.
The much anticipated highlight of the afternoon was the presentations by five local students who recently completed LPF's program. These kids were accompanied by their role models–adults who represent the career they dream to have in the future.
Other highlights of the event included the "Gift of Literacy" paddle auction after the five students made their "Dream Card" presentations. This year the auction raised an unprecedented $43,000 while the silent auction drew an additional $11,000.
Sponsors included Tourbillon, Omega, The OC Register, First Foundation, JoAnn Albers, Owl Foundation, Argyros Family Foundation, Frome Family Foundation, Zotovich Estate Vineyard and Winery, Angels Baseball, Ronna and Bill Shipman, Emerald Foundation, Barbara and Mike Shangraw, Rancho Las Lomas, Janie Merkle, Digital Eye Media, and B Scene Advertising Agency.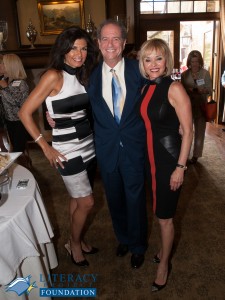 The objective of the "What Dreams Are Made Of" event is to bring together passionate supporters who care to give students with lesser means the gift of literacy so that no great mind is left behind. The event raises awareness of LPF's mission to implement their literacy programs into classrooms, after-school environments, and nonprofit organizations that serve underprivileged children facing challenges of illiteracy, and to ultimately help improve their reading skill level. Their reading program is offered at "no cost" to students performing well below English proficiency. Each year LPF helps more than 3,000 students get a gain on their basic reading skills through their phonetic reading program called, "The New Phonics Game," which was co-developed by the Regents of the University of California.
For more information, call (949) 721-1319 or visit literacyprojectfoundation.org.