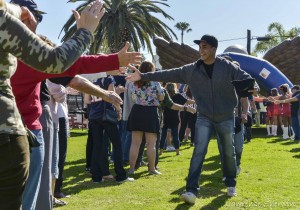 The Seventh Annual Crisp Family Super Bowl event at American Legion Post 291 in Newport Beach was hosted by Julie and Gary Crisp, and put on by their staff at C2 Reprographics.
More than 150 active duty Marines from the Fifth Regiment at Camp Pendleton were honored, shocked, awed and thoroughly entertained at the event.
Desperado, an Eagles tribute band, performed an exciting concert, while a USC band put on a rousing show. The Los Angeles Clippers cheerleaders danced and posed with very happy Marines.
The event included a barbeque, harbor cruises, bottomless beer kegs, cigars, massages, and even manicures, all of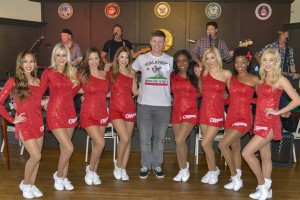 which allowed the Marines to relax and enjoy the day. Some risked trying to conquer the mechanical bull and some tried yoga–more difficult than a Marine workout, they said.
About equal numbers of Seattle Seahawk and New England Patriot supporters watched and cheered the Super Bowl. At the end of the day, the tired and thankful Marines headed home.
A check for $12,000 was presented to the Dana Point Fifth Marine Regiment Support Group. For more information contact [email protected].
Photos by Lawrence Sherwin