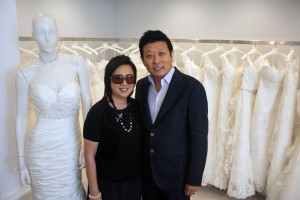 Entrepreneurs Kevin and Gloria Lu opened their flagship Casablanca Bridal boutique in Newport Coast Shopping Center earlier this year to help brides look their best on their special day.
But what about after the wedding? How do you keep the marriage on the right track?
The Lus have the answer: Celebrate Forever, their new nonprofit foundation based in Newport Beach whose mission is "to promote individual change as the key to improving personal relationships, healthier families and stronger communities."
Celebrate Forever aims to assist individuals through relationship oriented communication, problem-solving and conflict-resolution lessons to help prepare them for a lifetime together.
Kevin Lu said making a difference in even one family can have a lasting effect on its members, and to the community at large.
"We believe it starts with me," said Lu. "If I change my wife will change, if my wife changes my kids will change, if my kids change, my whole family changes, if the whole family changes our community will be changing, if my community is changing, the nation will be changing, if the nation will be changing, another country will be changing, if another country is changing, the whole world will be changing. Then we all will be changed. So if I am changed, the whole world will be changed."
According to the Journal of Family Psychology, couples who receive premarital education are 31 percent less likely to divorce. Research also shows that nearly 75 percent of participants in relationship education courses reported an increase in their couples-oriented problem-solving skills, thereby increasing the likelihood of staying together.
"Unhappy marriages increase the chances of illness by 35 percent, and people who come from healthy relationships live an average of four years longer than those who are in unhappy remarriages," said Sara Peary, executive director of Celebrate Forever.
"Relationships flourish when individuals work on themselves to be a better person, friend, family member or spouse, so we set out to provide a vast repository of resources to improve their relationships, which ultimately leads to stronger communities."
Celebrate Forever offers online relationship education courses, do-it-yourself toolkits, books, videos, mobile content via an app, and seminars and events.
Peary said Celebrate Forever includes resources for singles because change starts with the individual, and it builds a healthy relationship and marriage down the road.
"Marriage counseling is only 20 percent effective, but relationship education is 80 percent effective," noted Peary.
Visit the Celebrate Forever website at celebrateforever.org to learn more about the organization and to access a variety of resources, including links to their social media sites.