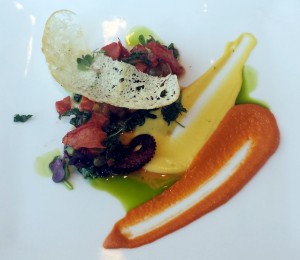 By Christopher Trela and Catherine Del Casale | NB Indy
A "Mama Mia" Dinner
We've been attending the Broadway musical series at Segerstrom Center, and last year discovered the clever themed menus that Executive Chef Ross Pangilinan has been creating at Leatherby's Café Rouge adjacent to Segerstrom Center.
Chef Ross has done it again for The Center's current show, "Mama Mia," which is based on the music of the classic 70s pop group, ABBA. His themed "Mama Mia" menu ($45 per person, $65 with wine pairings) takes elements of the show's Greek island setting and incorporates them in fun and palate-pleasing ways.
We both loved the first course called "Dancing Queen", an heirloom tomato salad with bright, juicy red and yellow tomatoes that Catherine said "burst with flavor in your mouth." The salad has feta, crisp mini croutons, cucumber mint basil, red onion, espelette pepper and a light lemon olive oil. The other option, "Take a Chance on Me" charred Mediterranean octopus, was tender and served with chorizo, lemon confit, tomato, corn puree, Romesco sauce, parsley and capers. Both dishes were colorful and beautifully plated.
"I was impressed with the 'Slipping Through my Fingers' entrée of Greek baked Levantine sea bream with tomatoes and onions, crispy fingerlings, asparagus and a smoked paprika emulsion," said Catherine. "The fish was grilled and then baked in a broth that gave the fish a smokiness to it without it getting too crisp."
"I agree, the fish is perfect, but I also like the "Sophie's Hen Party" entree of roasted game hen with oregano, lemon and garlic, tzatziki, eggplant, olive oil smashed potatoes, and olive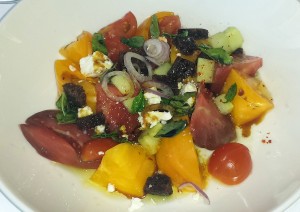 xeres jus," countered Christopher. "The olive flavor really gives the dish a Mediterranean accent."
The desserts were equally creative, as were the wine pairings.
"I had the Stags Leap Viognier, which was dry but with fruit flavors," noted Catherine. "The light wine didn't overpower the flavors of the fish but just added to the complexities of the dish."
We finished dinner about five minutes before curtain, but since Leatherby's is a one minute walk from Segerstrom Hall, we made it to our seats with plenty of time to spare.
Christopher has seen "Mama Mia" several times and admits to being an ABBA fan, but this was Catherine's first exposure to "Mama Mia."
"Having never seen the show and not actually knowing the outcome of the plot really helped engage me," said Catherine. "I loved the silly costumes and the adult humor sprinkled throughout. I think the overall themes of love, respect, and trust were shown throughout the show with the character development of both Sophie and her mother. The music was fun, and the transitions from dialogue to song were seamless."
For more info on Leatherby's Café Rouge, visit PatinaGroup.com.
For tickets to "Mama Mia" and the other upcoming musicals ("Book of Mormon," "Jersey Boys"), visit SCFTA.org.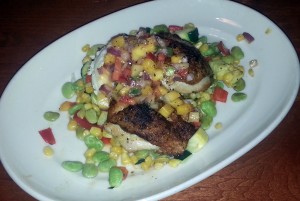 Southwest Dining from A to Z'Tejas
Another great pre-show dining option, especially for South Coast Repertory theatergoers, is Z'Tejas at South Coast Plaza.
The menu is loaded with Southwestern influences, and the 66-seat patio is the perfect spot to enjoy one of the best happy hours around.
We went to Z'Tejas recently for a media tasting, and were reminded just how good their food is.
"The corn bread, which they deem 'hospitality in a skillet,' is made the old fashioned way with special seasoned flour and corn meal, buttermilk, yogurt and creamed corn," said Catherine. "I'm not usually a fan of cornbread at restaurants, but this is an exception. It was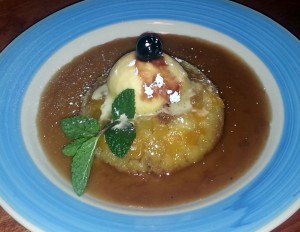 moist and not overly filled with corn, and was served with a sweet honey butter."
We loved the fish tacos, the Southern chicken thighs, and the pineapple upside down cake, which Catherine dubbed "the best I've had."
Christopher recently returned for happy hour and enjoyed his favorite Chambord Rita (a frozen margarita with a float of Chambord liquor) and generous small bite plates priced at $5 to $7.
For more information, visit Ztejas.com.