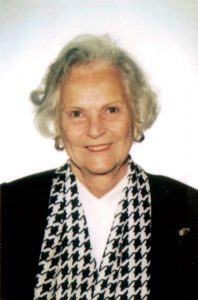 The Orange County Community Foundation has announced the passing of prominent Orange County philanthropist Elizabeth (Betty) Richardson Steele of Lido Isle, who died peacefully from natural causes at age 96 at Hoag Hospital on January 16, 2018.
Steele and her husband, Richard, were among Orange County's most generous supporters of the arts, education, health services, environment and safety net organizations over a lifetime of selfless and impactful giving.
Steele was a founding member of Orange County Museum of Art in Newport Beach, and was instrumental in the formation of the Orange County Community Foundation, also based in Newport.
"Betty never sought attention for herself but quietly and carefully went about the work of strengthening Orange County's most important charitable institutions, ensuring that generations of families will benefit from her wise and caring approach to stewarding her family's philanthropic legacy," said Shelley Hoss, president, OCCF. "Through her actions, Betty demonstrated that strategic and thoughtful philanthropy can yield immeasurable benefits for the community and bind a family together in a lifelong commitment to giving."
Betty was born on May 5, 1921, in Auburn, New York. She attended Finch College, a baccalaureate women's college in Manhattan before working for the United States Department of War during her 20s.
Steele is survived by three daughters — Elizabeth Holden of Eugene, Oregon; Anne Steele of Seattle, Washington; and Patricia Steele of Maui, Hawaii — eight grandchildren and 12 great-grandchildren. She was predeceased by her husband and their son Richard, who died in a yachting accident at the age of 18 in 1962.
Betty was lovingly tended in recent years by caregivers who became part of the Steele's extended family, including Loise Chegge, Elaine Chegge, Julie Chegge, Caroline Mwai, Elena Davila, Lilian Hodge, and Esther Gachie.
Throughout her life Betty spent months at a time at sea with her husband, an avid sailor and yachtsman, to which she adapted with characteristic energy, humor and skill.
She equally embraced community activities and entertaining her wide circle of friends, challenging them to her favorite games– bridge and dominoes– where as both thoughtful mentor and formidable foe her true spirit shone through. Betty was a life-long learner who enjoyed travel and spending summers with her family in the northwest.
The Steele family considered philanthropy a central part of their commitment to the community they called home. Betty devoted considerable energy to helping form the Junior League of Orange County in 1956, then called the Newport Harbor Service League. She also served as the founding registrar for the Orange County Museum of Art, a volunteer position that required her to inspect and record each piece of incoming art.
Following her husband's death in 1996, Betty continued to support the Newport Harbor Nautical Museum in his memory. Through the Richard and Elizabeth Steele Fund at OCCF, she supported more than 50 nonprofit organizations throughout Orange County annually; nearly all of these organization received consistent support since 2000, when the fund was established. The variety of these organizations speak to Betty's diverse interests and keen intent on prioritizing charitable giving based on greatest needs.
Memorial gifts in Betty Steele's honor may be made to OCCF, 4041 MacArthur Blvd., Ste. 510, Newport Beach, CA 92660, or to the charity of the donor's choice.