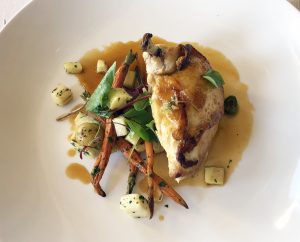 Newport Beach Restaurant Week is almost over—it runs through January 28. However, you still have a few days to take advantage of special prix fixe menus at 60 restaurants around town.
Our calendar editor, Laura Wise, dined at Pelican Hill Resort's Andrea Restaurant to sample the Restaurant Week lunch menu, and at The Winery Newport for the dinner menu.
Laura's report:
I visited Andrea with my mother for a special "ladies lunch," and to try their Restaurant Week menu. Andrea has a two-course menu for $25, with three options for appetizers and three options for entrees. I started with the Caesar salad with a light dressing and sliced anchovies. I can never pass up a good Caesar! My mom selected the di stefano burrata with salt-roasted beets, watercress, and candied hazelnuts, and endives – a fresh and delightful surprise.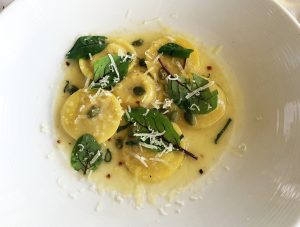 For entrees, I chose the airline chicken breast with vegetables, preserved lemon, nocellara olives and marsala jus. The delicious dish was the ideal serving size for a filling lunch. For a lighter option my mom tried the pumpkin ravioli with sage and brown butter and smoked pumpkin seeds. The flavors blended together perfectly.
To pair with our meal we each sipped on a glass of the Pelican Hill prosecco, while enjoying the breath-taking view. Delizioso!
Then, with only a few days left of Restaurant Week, my best friend, Cindy Matchko, and I decided to meet at The Winery Restaurant for a mid-week dinner and to exchange belated Christmas gifts.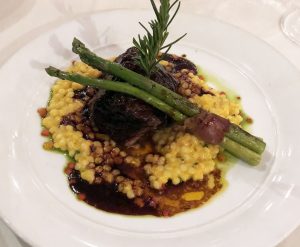 The Winery offers a four-course menu for $50 with an appetizer, three selections for starters, three selections for the main course, and two choices for dessert.
Our table on the second-floor enclosed patio showcased the picturesque view of Newport Harbor. The heat lamps and fireplace provided a warm, cozy setting for a crisp January evening.
The Restaurant Week menu began with YG's Alsatian Pizza with nueske bacon, crème fraiche, gruyere cheese, and white onion. The two slices were the ideal amount. Next I ordered the prosciutto-wrapped wild white shrimp with arugula and asparagus risotto, and lemon verbena beurre blanc. Cindy selected the seared rare Ahi tuna with avocado, mango, cucumber tower, and cilantro-orange vinaigrette.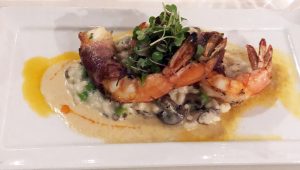 For the main course the zinfandel braised angus beef shortrib came highly recommend by our Off the Menu columnist, so I had to try it. The shortribs were accompanied with prosciutto wrapped asparagus, carrot infused pearl couscous, and a zinfandel reduction sauce. Cindy enjoyed the grilled brandt flatiron steak with black truffle mashed potatoes, grilled asparagus, and a bordelaise sauce. We paired our meal with a glass of The Boyz red blend from Paso Robles.
While opening gifts at the end of the evening we both savored the famous warm vanilla beignet with strawberry and dark chocolate sauce. A perfect evening.
Visit DineNB.com for a list of participating restaurants.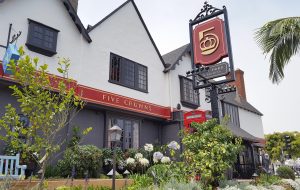 Speakeasy in Newport
Shhhh…what's the password?
If you can answer that question, you'll gain access to a secret speakeasy called 352 Poppy inside Five Crowns Restaurant in Corona del Mar.
Five Crowns is on the corner of Poppy and Coast Highway, but not at that address. There are many stories surrounding the various uses of the Five Crowns building prior to the restaurant opening there in the mid-1960s. The 352 Poppy address is commemorative of a 1940s gambling raid. The police report is on display on the wall in SideDoor (adjacent to Five Crowns) and includes the address.
The Five Crowns speakeasy has been around for a couple of years and I've been able to check it out in the past, but they've upped the experience with themed menus and drinks.
I received an invite to the speakeasy earlier this month, and promptly made a reservation as they sell out fast (they're only available two nights a month).
Five of us arrived at Five Crowns and were directed where to look for a password, which this time was a sound—the noise a wookie makes in "Star Wars."
Apparently my feeble wookie noise made the grade, and we were led upstairs into a secret windowless room. Our server was dressed as Princess Leia, and the bartender as Darth Vader. "Star Wars" music played in the background as we perused the menu, which listed such themed cocktails as Nice Buns Leia (spiced honey, house made horchata and dark rum), Lit Like a Lightsaber (Campari, cocchi americano, lemon, eg.g white), and Bantha Milk (Brinley coconut, velvet felerum, lime and absinthe). Cocktails are $15 each
Speaking of absinthe, that's probably the prime draw of the speakeasy. The evening we were there, 11 different absinthe varietals were available, served the way it was more than a century ago in Europe.
The absinthe is brought to the table as a 1.5 oz pour, and goes through the La Louche ritual, which is a process of adding iced water to absinthe, which dilutes the drink and slowly transforms its color from the original emerald green to a lighter shade. The water comes from a large glass container on the table, which has several spigots that slowly let the water drip out and over a lump of sugar placed on a perforated spoon that rests on the top of the glass.
We shared an absinthe tasting of three different style—light, medium and bold. The flavors are strong and distinct. Not everyone's cup of tea (or adult beverage), they were fun to try while we sipped our other cocktails.
The menu included starters, entrees and desserts, also "Star Wars" themed. I ordered the Jabba the Hummus $10) for us to share, along with the Admiral Ackbar Arbiata ($28) with squid ink pasta, calamari and tomato. Others at the table enjoyed the Millenium Falcon filer ($42) with truffle, cabbage and parsnip, Emperor Palpatine Meatballs ($12), and other themed cuisine.
We all agreed it was a thoroughly enjoyable evening both for the excellent food and the fun ambiance.
Another speakeasy is coming up soon, this time with a Monopoly game theme. I'll be attending, how about you? I'm told you can send an email to [email protected] to be added to the invite list, but shhhh…you didn't hear it from me.