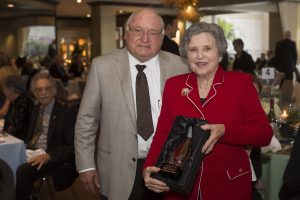 "Sounds of the Sea" was the theme of Pacific Chorale's 2016-2017 closing night concert last month, when the resident choir of the Segerstrom Center for the Arts celebrated a multitude of accomplishments and remembrances, beginning with its Chairman's Dinner, an annual fundraiser that also honors a significant lifetime contributor to the Orange County arts scene.
This year, the honorees were Newport Beach philanthropists Elizabeth and John Stahr, supporters of both the Chorale and Pacific Symphony. They were also named the 2016 Newport Beach Citizens of the Year.
The dinner, held at Silver Trumpet Restaurant in Newport Beach, sold out early as the evening also was one that celebrated the career of its outgoing conductor, John Alexander – the Chorale's Maestro of 45 years. 
Sponsors of the fundraiser included: Phil and Mary Lyons; Mark and Donna Hoover; Lenora Meister; Hans and Valerie Imhof; Carlos and  Haydee Mollura; Janice Johnson; and Tom and Bonnie Pridonoff. Table sponsors included Michael Vantrease and Elizabeth Pearson.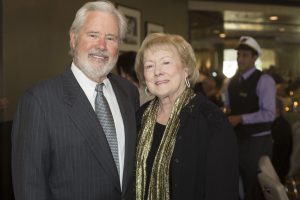 Following the dinner, Alexander led the 140-member choir in Ralph Vaughn Williams' "A Sea Symphony" in the Concert Hall, featuring the poetry of Walt Whitman (Leaves of Grass). There wasn't a dry eye in the house as all singers on stage and the audience bid farewell to their beloved long-time Artistic Director.
The Concert Hall lobby was adorned with seascape original art produced by Laguna Plein Air Painter Association artist Rick Delanty. 
After the concert, key supporters and the singers moved to Samueli Hall for a Tribute Reception where Alexander was toasted by Board Chair Mary Lyons, praised by Washington, D.C.-based Chorus America President Catherine Peterson, and lauded by incoming Conductor Rob Istad, a protégée of Alexander's. 
While with the Chorale, John Alexander led the organization on 12 international tours to 19 countries and also brought international acclaim to the non-profit with 30 world, U.S. and West Coast premieres and commissions. He is credited with helping to take the Chorale from an annual budget of less than $10,000 per year to its current budget of nearly $2 million per year.
For more information, visit PacificChorale.org.