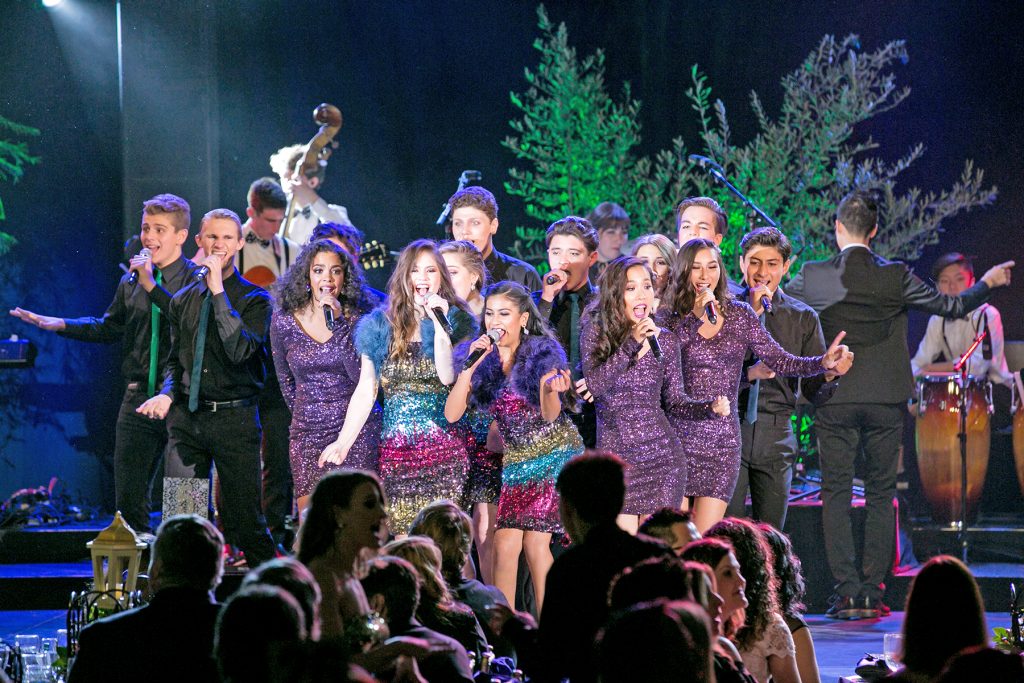 More than 600 guests stood in roaring applause to celebrate a thrilling evening of captivating performances and extraordinary generosity that led Orange County School of the Arts (OCSA) to raise record donations in support of its tuition-free arts and academic programs.
For OCSA's Gala 2018 "Big Time in the Big Easy," Hotel Irvine was transformed into the enchanting city of New Orleans as ladies and gentlemen were entertained by jazz artistry, fine French Creole cuisine, indulgent live and silent auctions, and a three-act production staged by more than 200 of OCSA's talented students.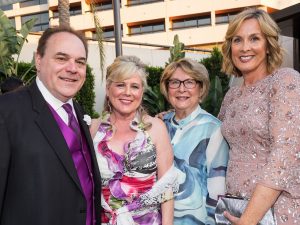 Co-chaired by Lisa Argyros and John Massa and Devon and Kevin Martin (all from Newport Beach), the black-tie affair far surpassed its fundraising goal, raising more than $2 million with a net of $1.6 million. Unique to OCSA's Gala, the costs associated also include the elaborate performance, which provides students from all 14 arts conservatories with real-world experience and professional mentorship.
"OCSA's Gala truly gives its students the opportunity to shine, not only in the awe-inspiring performances by singers, dancers and musicians onstage, but also as gracious greeters, stage managers and crew, visual artists and culinary support," said Devon Martin. "It's an incredible showcase of the magic that takes place in the classrooms every day. I would have loved to have had something like OCSA when I was growing up."
As soon as guests arrived at 5:30 p.m., they were delighted by OCSA students, who acted as entertaining street performers. Artists sketched and painted their masterpieces, writers created thought-provoking poetry and improvisational dancers tapped their feet to the sounds of rollicking jazz music.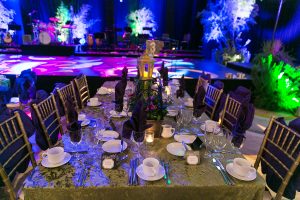 Guests were handed delicious peach cocktails and tray-passed hors d'oeuvres as they strolled up the purple carpet to the French Quarter Pavilion tent, where they placed their bids on an extraordinary selection of silent and "Almost Live!" auction items. A second-line parade then led them through an ornate floral iron gate into the Grand Ballroom, where dinner was served under market lights. Producer's Circle ($30,000) tables were adorned in apple green velvet brocade linens with golden lantern and orchid centerpieces, and surrounded by gold infinity chairs backed with extravagant royal purple cloth flowers. Other tables draped in natural linens were illuminated by white lanterns and black five-candle candelabras surrounded by floral shades of green, cream and aubergine.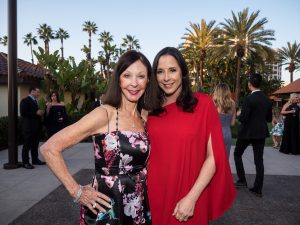 After the exhilarating live auction, the Fund-A-Dream portion opened with an inspiring video, a testimonial by OCSA alumnus Lorenzo Rangel-Santos, and a moving speech from Dr. Mohamed El-Erian about the importance of education, diversity and opportunity for all students. When his challenge match of $300,000 was announced, paddles flew up in support of the Artist Scholar Sponsorship Program, which helps to provide financial assistance to students' families who live below the national poverty level. The generosity soared to another level when Julia Argyros and Honorary Gala Co-Chair Lisa Argyros stood and surprised the crowd with a $500,000 gift from the Argryos Family Foundation.
"The entire evening was joyous and filled with warm-hearted generosity," said Lisa Argyros. "We were so touched by the incredible response to Dr. Mohamed El-Erian's challenge gift that we were moved to give an additional $500,000 to support OCSA's life-changing programs."