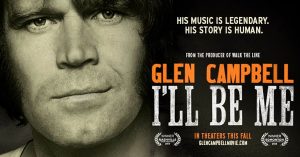 In 2011, country music legend Glen Campbell announced he had been diagnosed with Alzheimer's disease, but instead of hanging up his guitar, he set out on a tour of America that lasted more than a year.
Filmmaker James Keach documented that tour in his film "I'll Be Me," a fascinating look into Alzheimer's disease and the toll it takes not only on the afflicted person but his friends and family as well.
Campbell is now in his final stages of Alzheimer's, so it was fitting that his wife, Kim Campbell, was the special guest for the Alzheimer's Orange County's 10th Annual Visionary Women Caregivers Luncheon, held at Rancho Las Lomas in Silverado Canyon.
The luncheon also featured awards to six local compassionate caregivers in addition to Campbell's presentation.
Newport Beach resident Jeannie Lawrence, the owner of Rancho Las Lomas, has hosted the luncheon for the past six
years. She lost her husband to Alzheimer's disease in 2005, a month after they celebrated their 25th wedding anniversary
"When Alzheimer's took Rick's life 11 years ago, our family was robbed of a husband and a father," said Lawrence. "Opening up our home each year to Alzheimer's Orange County and its guests is the perfect way for our family to honor Rick — he would have wanted us to share what we created at Rancho Las Lomas with new friends. We couldn't be more proud to host such a special celebration, especially one that pays tribute to caregivers."
Lawrence introduced Campbell by noting that "I was in Starbucks yesterday, and what came over the loudspeaker? 'Wichita Lineman.' It's such a beautiful song, and reminded me that we have a special guest todayt who has come here with a story to share."
Campbell talked about how she and Glen came to do the documentary. At first, she said the filmmakers did not want to take on the project.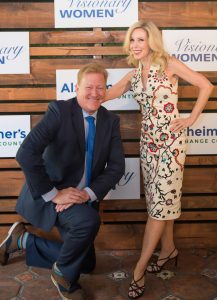 "It's depressing, there is no treatment, nobody is going to want to watch Glen Campbell go through Alzheimer's," she said the filmmakers told her. "Then they met Glen and fell in love with him. He had a great sense of humor and a positive outlook. The filmmakers got on the bus with him, and we went out on the road—but we worried what is nobody wants to come and see a show with a singer with Alzheimer's? We didn't know if anyone would buy a tickets."
People did buy tickets. The first show was sold out, the audience cheered and rooted for Glen, and he enjoyed every minute of it.
"A lot of people don't understand Alzheimer's, don't know how to deal with it, it makes them nervous," explained Campbell. "Glen did a lot to remove the stigma by inviting people to come along on the journey."
The farewell tour continued for many months. Campbell said music was helpful to keep Glen plateaued and keep the disease from progressing.
"Music uses different regions of the brain at the same time," noted Campbell. "He had quality of life. He knew he had Alzheimer's, but was determined he was going to continue living his life."
Campbell said Glen just turned 80 and has lost his ability to communicate, but is happy and content.
"We are here today to draw strength from each other," Campbell told the crowd of 250 Alzheimer's OC supporters and caregivers. "We're all in this together."
"Alzheimer's and other forms of dementia are a family disease, and affect much more than just the person diagnosed," said Jim McAleer, CEO of Alzheimer's Orange County. "Our annual Visionary Women Luncheon allows us to focus on the unsung heroes – local caregivers – who dedicate their lives to caring for those battling every stage of this cruel disease."
The local award winners were Family Caregiver Award honoree Maria Elena Flores, Family Caregiver Award honoree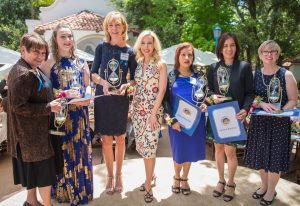 Gincy Heins, Professional Caregiver Award Aileen Gaddi, Administrative Professional Award honoree Ellie Nixon, Administrative Professional Award honoree Joanna Manczyk, and Medical Professional Award honoree Kathleen Furlong.
Throughout its 10-year history, the Visionary Women Caregivers Luncheon has featured celebrity speakers such as Florence Henderson, Marion Ross, Rita Moreno, Shirley Jones, Doris Roberts, Olympia Dukakis, Ellen Burstyn and Debbie Reynolds.
The event is organized by the Visionary Women Circle of Alzheimer's Orange County, an advocacy group comprised of more than 300 members who mobilize the community to elevate awareness and expand local support of AOC's no-cost programs through education, advocacy and fundraising. The group of passionate women include: Julia Argyros, Jacqueline Dupont-Carlson, Susan Johnson, Lauren Kear, Jeannie Lawrence, Kirsten Mangers, Sandra McDaniel, Diane Mondini, Beverly Newton-Redfern, Marla Robinson and Stacy Schlinger.
The 2016 event sponsors included: The Argyros Family Foundation, Assured In-Home Care, Caring Companions at Home, Chatterton & Associates, First American Trust, Irvine Cottages, San Clemente Villas by the Sea, Silverado and WCCT Global.
To join Visionary Women Circle, and for information on upcoming events, call (949) 955-9000 or visit alzoc.org.