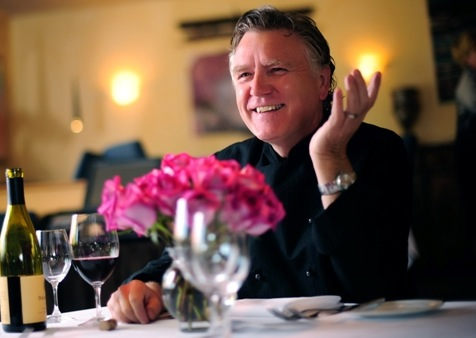 For veteran chefs like Pascal Olhats, foie gras is to French cuisine what raw fish is to sushi chefs.
As chef owner of popular eateries Epicerie Pascal, Café Jardin, Brasserie Pascal and the recently retired Tradition by Pascal in Newport Beach, Olhats knows his foie gras ("fat liver") and has found himself embroiled in the controversy surrounding California Senate Bill 1520, passed in 2004 and signed into law by then-Gov. Arnold Schwarzenegger, which will make force-feeding a bird illegal as of July 1, 2012.
For those in support of the bill, the centuries old process of "gavage" or force-feeding geese and ducks for a short time in order to fatten their livers, is cruel. For chefs across the state, the bill will effectively prohibit the use of a delicacy integral to French tradition and culture, not to mention their livelihood.
Imagine a fine steak house or your favorite burger joint being prohibited from using any meat from cows fattened standing in feed lots – an industry standard. The same holds true for the farming of chicken and lamb. In order to meet demand, even fish is farmed in a way that some might consider cruel.
"The ducks that are essential to the foie gras industry live in a special area of France called Dordogne where the farmers take very good care of them," says Olhats. "The ducks are pampered, run in fields, and eat very well. It is important that we only purchase and support farmers like these who adhere to strict processes, that take the best care of ducks and geese."
The longstanding popularity of foie gras cannot be denied. It is one of the world's most distinguished delicacies dating back to ancient chronicles of mankind. In fact, the first evidence of foie gras is found in Egyptian history, some 45 centuries ago.
In the wild, ducks and geese gorge themselves prior to migration to temporarily store fat in their livers and skin, which they use for energy during migration. When the delicacy was discovered, Egyptians, Hebrews and Greeks used soaked wheat to feed the waterfowl, while the Romans used figs, from which the word "liver" originated. The result is an enlarged fatty liver which has been the highlight of the finest gastronomy in the world for more than 4,000 years.
Because Olhats supports the idea that ducks and geese should not be mistreated, he is a member and active supporter of the Coalition for Humane & Ethical Farming Standards (CHEFS) which is led by the Golden Gate Restaurant Association (GGRA). He has joined forces with chefs across the state that feel farmers not in compliance should be banned, not the foie gras.
"Foie gras is the No. 1 gourmet specialty in our country. It's like saying no more bacon for breakfast for Americans," said Olhats.
CHEFS has encouraged its members to feature foie gras on their menus until the ban takes effect in the hope that the Bill will be amended to allow foie gras, and impose tighter restrictions on farmers. A quick Internet search revealed a plethora of participating restaurants, from San Diego to San Jose.
In support of the movement to save foie gras in California, starting March 22, Olhats will hold a special promotion at Brasserie Pascal called "Celebrating Foie Gras." The promotion will include a la carte and three course prix fixe menu items featuring foie gras, ranging in price from $18 to $55. A portion of the proceeds will be donated to CHEFS.
Olhats feels customers should get involved and support the efforts of CHEFS not to ban foie gras outright. "Banning foie gras all together is not the solution," he says. "Instead, we should go after the farmers that are mistreating the ducks and find new techniques that will have the same outcome but will not harm the animals."
For reservations at Brasserie Pascal for "Celebrating Foie Gras" call 949-640-2700.
Columnist Lynn Selich resides in Newport Beach. She can be reached via www.LynnSelich.blogspot.com.