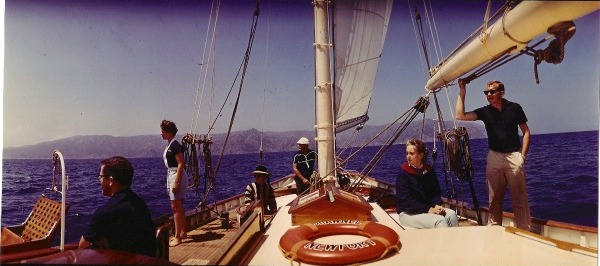 A Newport Beach shipwright was been ordered by a judge this week to move the 72-foot historic, wooden ship that he has been restoring in his backyard for the last six years.
Dennis Holland has to move the Shawnee from his Holiday Road home by April 30 or face fines and possible jail time.
The fight has been a long one, the city sued Holland after neighbors complained and the boat remained in his yard despite being fined for being in violation of a 2009 ordinance.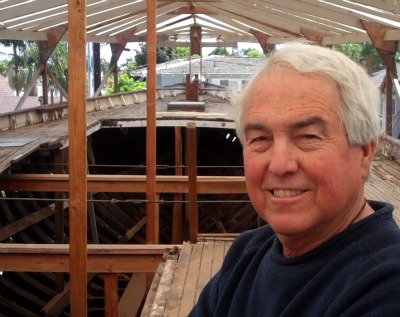 Supporters say the ordinance was created specifically to kick Shawnee out of the neighborhood and that they can't retroactively enforce it. Supporters maintain that it adds character to the community more than it detracts from it and want to see it restored to it's former glory.
Christina and Michael Lampe, of No Quarter Given pirate magazine and members of the Port Royal Privateers, say the pirate community has an interest in preserving the ship. Tall Ships are a part of the pirate life and adventure, and the Shawnee is authentic, making it even more special, she said.
They have talked about a gathering or rally, Christina Lampe said, but nothing definite yet. They are in the process of getting the word out to the nautical and pirate communities, she said.
"We want to do whatever would help the most," they both agreed.
Holland has the rare knowledge of how to build and restore ships like the Shawnee, they said, and that knowledge is fast disappearing.
The ship is a part of nautical history, Michael Lampe said. She's an important part of California and local Newport Beach history, Christina Lampe added.
There is so much more to the Shawnee than what people are seeing now, Danny Parsel of Costa Mesa agreed.
As the grandson of Allan Adler, who brought the Shawnee to Newport Harbor and owned it for about 50 years, Parsel has a personal connection to the ship. He doesn't want people to remember the Shawnee as the ship that created the controversy in a Newport Beach backyard, but rather as the beautiful wooden ship that it once was and, he hopes, will be again.
"There's so much more to it than the boat that's stuck in that backyard," he said.
"My grandfather would probably be horrified to see it how it is now," said Parsel's cousin, Roxanne Packham of Camarillo.
Packham grew up in Newport Beach and spent a lot of her childhood on the ship. He loved that ship very much, she said, and to see it in it's current state would be awful for him.
"Dad always wanted me to promise him that I wouldn't let Shawnee die," said Allan Adler's daughter, Cindy.
The elder Adler sailed the ship up until his death in 2002. While dealing with the death of the family patriarch, the Adlers had to decide what to do with Shawnee.
"After he passed we didn't have the resources or knowledge to keep her going," Cindy Adler said.
The Adler family had known Holland for some time, just from being a part of the nautical community and for their shared loved of wooden boats. Holland, who had first seen Shawnee in San Francisco when he was just 8-years-old, eventually ended up taking her.
"The boat he loved from afar ended up in his backyard (in Newport) and now literally," Adler said.
Holland has been hard at work restoring the Shawnee for about six years.
"I'd love to see the boat restored and back in the water," Parsel said.
He believes Holland should be given the shot to restore it.
"I don't want to see her come to an end," Adler said, not like this.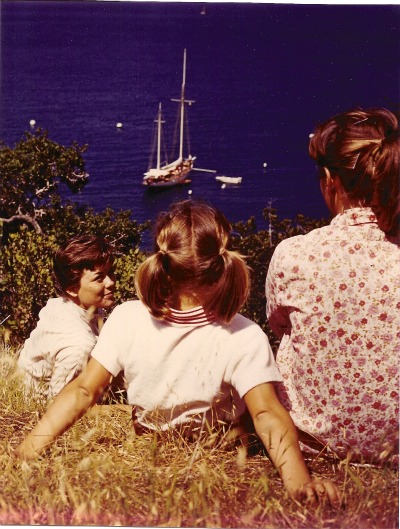 "I grew up on her, I know every square inch of her," she said. "I started my family on that boat… I have a long love affair with that boat."
The Adler family took her on trips up and down the coast to Mexico and Canada and spent a lot of time in Catalina. There were weddings and funerals on board, big family celebrations and intimate gatherings. Shawnee was a part of the family.
Allan Adler was a well-known silversmith and was once called a California Living Treasure, his daughter Cindy Adler said.
The honored craftsman had two daughters grow up on board.
"My best childhood memories were aboard the Shawnee where my amazing dad gave me the experiences of a lifetime," said Linda Hughes of Newport Beach.
Saving the ship isn't important to just the family though.
"We need to take pride in our maritime history," she said. "This community has this California treasure of a ship…a classic… We don't want to lose it."
And what a history the Shawnee has.
The Shawnee was built in 1916 in Boston for the Fontana family of California city with the same name. Arthur Benney, a famed naval architect and ship designer, created the wooden masterpiece.
They shipped it out to San Francisco and it was one of the earliest ships to sail through the Panama Canal.
"She lived her life in the San Francisco bay until my family bought her in 1954," Adler said.
While in San Francisco, she was the flagship for the St. Francis Yacht Club, placed third in the first ever TransPac race to Tahiti, and sailed up and down the coast.
Shawnee was called into service during WWII, Adler said, patrolling the coast for any possible intruders or attacks.
"She's a veteran," Adler said. "She did her duty for the country."
Between the Fontana family and the Adler family she had a few other owners, including a family from the Midwest that chartered her out.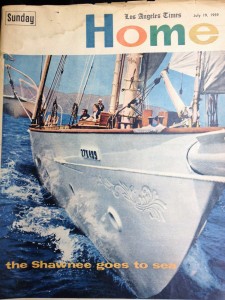 She was in somewhat disrepair when Allan Adler finally came along in 1954, Cindy Adler said, who was a toddler when her father bought the ship. He did some restoration and sailed her down to Newport Beach.
"He loved to sail her," she said. "It was his dream."
He kept it in a slip by Lido for about 10 years, Parsel said, then moored it in Newport Harbor.
Shawnee was even invited to the tall ships parade that was part of the Olympics activities in Los Angeles in 1984.
And she's been featured in numerous magazines and newspapers over the years.
The "silversmith to the stars" would take all kinds of people out on Shawnee, including a lot of people in the movies, Adler said.
Guests would thank her parents for the amazing opportunity of sailing Shawnee, Cindy Adler said, it was a once in a lifetime experience.
"They were so gracious to people," Packham said. Their grandparents were gifted hosts, she added.
And everyone who came aboard felt important, no matter if they were rowing a boat or cruising on a yacht.
"Everyone was treated the same," she said. There was no pretentiousness aboard the elegant and regal ship, she said.
It was special to be aboard the Shawnee.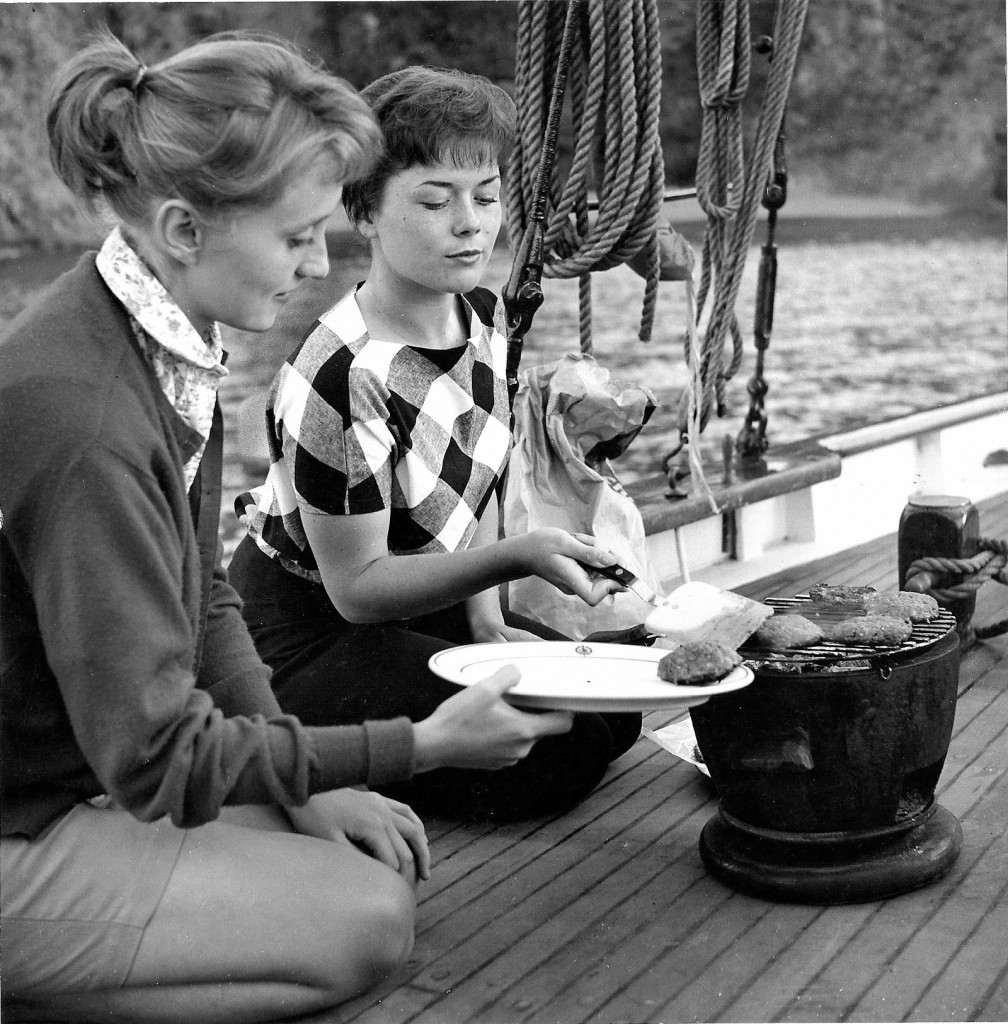 Every meal, even the simple ones, were amazing feats to behold, Packham said. They had "roly" pancakes (homemade French crepes) with orange sauce almost every morning. Event cheap ice cream and canned peaches was incredible on board.
"Grandpa would often have surprise costume parties," Packham remembered fondly. With whatever they happened to pack, they had to dress up as a baby, Italian or Native American, or whatever the theme might be.
"Such fun times, great memories," she said.
"I have millions of memories," Parsel said. "We were on that ship all the time."
His parents lived on the Shawnee up until about three or four months before he was born, he said, and then they just moved down the street.
As her father got older, Cindy Adler took more control of the ship, single-handedly steering and docking when needed. She remembers a specific time when she was pulling Shawnee into tight quarters at a fuel dock in Canada and a man with a seaplane was amazed at her abilities.
"He thought I'd take off a wing of his plane," Adler remembered with a laugh. "Here's me in my 30s, long blonde hair and no one else on deck… He couldn't believe I could handle her."
Adler wants to preserve the ship so others can have new experiences and share those feelings.
"Shawnee brought out in me parts of me I never knew I had," Adler said, adding that the feeling is beyond words "There's just something about being out in the elements that make you humble and dig deep in yourself… There's something intangible about the soul of a wooden ship."
On top of the rich history and special family memories the Shawnee holds, it's a beautiful ship, Adler said.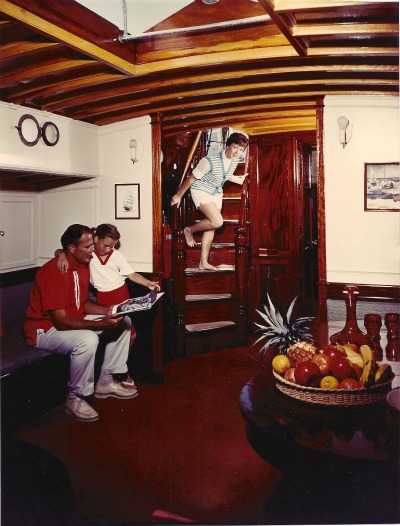 The ship has an amazing interior, Adler said, mahogany and carved wood with the classic Victorian style. Shawnee represents the elegance of an era, she said.
The Shawnee is a beautiful boat, when at her best, Adler said, people are now probably seeing her at her worst and that's no way to remember her.
"It was a really special boat," Packham said. "Seeing it now, it's not even the same object as it was before…Now, its like a shell of what it once was. Such a big story (and rich history) that went with it and now it looks like just a bunch of wood."
The ship has been meticulously taken apart, Adler said, the bulk of the work is done.
"It's not like the ship has just been sitting there with no working being done," Adler said "After all the hard work up to this point and now to have to see her scrapped… It would be a tragedy."
Adler urges people to save Shawnee and to throw all their support behind Holland, who she says has gotten a rotten deal from the city.
"Newport Beach should be proud to do something to save her," Adler said. "[Scrapping Shawnee] would be letting something of real value slip through our fingers. Once you lose something like her, you cant get it back again."
All of Shawnee's history are reasons to save her, Adler said.
"That beautiful ship has survived a lot," Adler said. "To see her lost would be a tragedy."