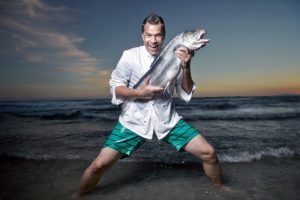 Fly-n-Fish Oyster Bar is kicking-off National Seafood Month with its third annual Chowder for a Cause to benefit St. Jude Children's Research Hospital.
Throughout the month of October, proceeds from every order of Chef Julio Hawkins' New England Clam Chowder sold will be donated to the non-profit organization.
Year after year, guests of Fly-n-Fish are eager to support this great cause. Over the past two years, the event raised over $10,000 in one month.
Owners and restaurateurs, Rick and Steve Loomis, who have been in the hospitality industry for nearly four decades, originally wanted to find a way to give back to their community and couldn't be happier with the results and outcome of this annual event.
"At Fly-n-Fish, we strive to be a staple in the Newport Beach community with a focus on giving back and we are very excited to continue this annual fundraiser for the third year in a row. We are so fortunate to be well received by our guests and this is our way of saying thank you," said the Loomis brothers in a statement.
Fly-n-Fish is a strong supporter of ensuring a healthy ocean future by focusing on sustainable seafood brought in daily from the most prominent and responsible purveyors of fine foods from around the world, such as Santa Monica Seafood.
For more information, visit flynfishoysterbar.com and stjude.org.