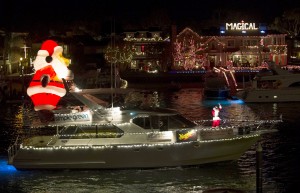 "Rockin' Around the Christmas Tree" is this year's theme for the 105th Annual Newport Beach Christmas Boat Parade. For the last 10 to 15 years a large amount of bay front home decorations are just as impressive and spectacular as the yachts will be.
A quick reminder for spectators on places to watch the yachts on their route around the perimeter of Newport Harbor.
Three places immediately come to mind for a more formal spectator area. Since 1974 I've been the third generation in our family as an armed services veteran to be a member of the American Legion on the bay front at 15th Street on the Balboa Peninsula. They usually have grand stands and events at their site and the member installed Christmas lights surrounding the Legion building from the bay are superior.
The Sea Scouts and adjacent Orange Coast College on Mariner's Mile (west of the Balboa Bay Club) is an excellent location and the parade boats go by around 8 p.m., which for the young ones would be an appropriate time of the evening.
Thirdly, the Fun Zone area usually has an announcer explaining the yachts themes and trophy categories they might be signed up to win. With the Pavilion restaurant and other businesses seeking customers, this may be the most impacted area for a parking space.
Obviously, anywhere along the parade route will be difficult for car parking spaces. For the 35 or more years we have participated in the parade, we have usually recommended our guests to be at the boat by 5 p.m., even though we won't leave the dock until 6 p.m. Some years there are an overabundance of visitors trying to watch the parade, and at times I've seen the 55 Freeway backed up to MacArthur Blvd., so we've always used the side streets to get around.
For the skippers out there I'd like to offer my never ending "rant" of safety, safety and safety. Not only is the parade large, the spectator fleet dwarfs the yachts and commercial party boats along the route. The reflection from the lights on your boat, other boats and the bay front homes is staggering. Last year the rental electric boats, kayakers and paddle boarders were the most difficult to recognize. There are also dingys and inflatables which are darting here, there and everywhere.
The responsibility of piloting any size boat in the chaos we observe on the bay during this event is huge. In the last few years state laws are such that someone under the influence of drugs or alcohol involved in an accidental loss of life can now lead to murder charges. That is a sobering fact.
Be Safe, enjoy and Merry Christmas—the boat parade is just around the corner!
Sea Ya,
Skipper Steve