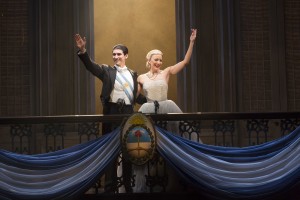 It's been three decades since Andrew Lloyd Webber and Tim Rice took the "rags to riches" tale of Eva Perón, who rose from the slums of Argentina to become the country's First Lady until her death in 1952 at age 33, and turned it into the Tony Award-winning musical called "Evita."
The show is as popular as ever—the recent Broadway staging garnered a Tony nomination for Best Revival of a Musical, and the touring production of "Evita" has been earning standing ovations everywhere it plays. The reaction should be similar when "Evita" comes to Segerstrom Center for the Arts December 10 – 22.
Directed by Tony and Olivier Award-winner Michael Grandage and choreographed by Tony Award-winner Rob Ashford, this is the first new Broadway production of "Evita" since the show's Broadway debut. The tour stars Caroline Bowman ("Kinky Boots") as Eva Perón, Tony-nominated Josh Young ("Jesus Christ Superstar") as Che, and Sean MacLaughlin ("Woman in White," "Phantom of the Opera") as Juan Perón.
MacLaughlin, who has family in Tustin and lived in Orange County briefly, said the tour started in September and is crisscrossing the country. His wife (whom he met while playing Raul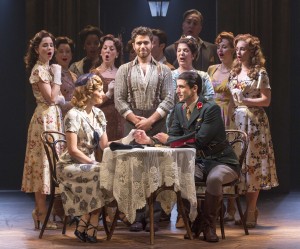 in the touring production of "Phantom of the Opera" which came to Segerstrom Center several years ago), baby and dog are along on the tour.
To research Juan Perón, Eva's husband who became President of Argentina, MacLaughlin said he read several books on the couple, and learned that people had a love-hate relationship with the Peróns.
"Did they save their country, or were they devils?" wondered MacLaughlin. "The way Webber and Rice wrote it, they're not on one side or the other. But, for me, every night (playing Perón) I feel the joys of becoming President and the paranoia and fear of losing the Presidency, and his wife. Perón only has 25 minutes on stage, but he does play a big role in Eva's life."
MacLaughlin said "Evita" is his favorite Andrew Lloyd Webber musical, and it has the most complex score in Webber's repertoire.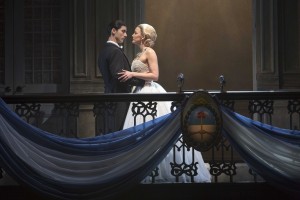 "When I first heard it back in high school, worked my way thru the videos of the show and then eventually saw this revival, it blew me away. It's incredibly stunning. The direction and choreography is married so well—it's breathtaking. The original Hal Prince direction was engaging and brilliant, but people do it over and over again. Webber said he wanted to see a re-conception of this piece. This version is more inward, with a simple staging. It's gritty, but I think people who love the Hal Prince version will like this as well."
Special pre-show activities are planned for "Evita" at Segerstrom Center. A Dream Wall inspired by the song "And the Money Kept Rolling In (and Out)" will be in the lobby, where patrons can write down their dreams and wishes on specially made cards that will be shared in a public display. There will also be a photo backdrop so audience members can recreate the iconic balcony scene.
For tickets to "Evita," call (714) 556-2787, or visit SCFTA.org.