Deciding where to dine out for Christmas is akin to selecting the perfect present: it's all a matter of taste.
One thing is clear–letting someone else do the cooking allows more time for you and your family to focus on more important Christmas chores, such as opening gifts and spending time together.
Here's a list of what some notable Newport Beach restaurants are offering this Christmas:
BALBOA BAY CLUB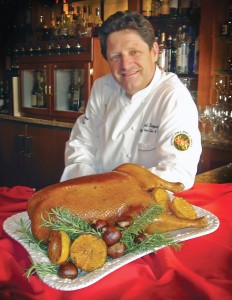 .
The Balboa Bay Club's First Cabin Restaurant is serving Christmas Eve dinner from 5 to 10 p.m., and Christmas Day dinner from 1 to 8 p.m. The Christmas Eve dinner features a traditional five course prix-fixe meal ($85 adults and $42 children 4-12) created by Chef Josef Lageder, accompanied by live piano music and endless views of Newport Harbor. For reservations, call (949) 630-4245 or visit BalboaBayClub.com.
BRASSERIE PASCAL
At Chef Pascal's more casual Brasserie Pascal in Fashion Island, Christmas Eve dinner is a Five Course ($55) affair that starts with an amuse bouche, segues into choice of appetizer such as Lobster Bisque, Escargot, or Oysters on the Half Shell, continues on to entrees such as Filet Mignon with Lobster Medallion and Black Truffle Risotto or Duck Duo, pauses for a Sorbet Dish, and then ends with a choice of desserts (including Pascal's famous White Chocolate Souffle). Call (949) 640-2700 or visit BrasseriePascal.net.
THE BUNGALOW
Bungalow Restaurant has a four course prix fixe Christmas Eve dinner menu for $55 per person that includes chef's selection of appetizer; chowder, bisque or salad; entrée (including Prime Rib, Filet Mignon, and Swordfish), and dessert. Call (949) 673-6585 or visit The Bungalow Restaurant.com.
THE CANNERY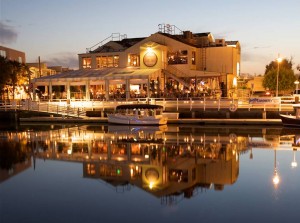 This Christmas Eve from 3:30 to 9 p.m., the iconic Cannery Restaurant offers a festive Christmas Eve dinner featuring a special holiday menu designed by new Executive Chef Nick Weber. Guests can choose from a variety of standout seasonal dishes, including Roasted Chestnut Soup with Duroc pork belly, Slow Roasted Angus Prime Rib, and Egg Nog Creme Brulee with Candy Cane Biscotti. Appetizers are $10 to $10; entrees are $24 to $36. Call  (949) 566-0060 or visit CanneryNewport.com.
ISLAND HOTEL
Celebrate Christmas Eve at Palm Terrace Restaurant with a festive four-course meal 5:30 – 9 p.m., with live entertainment ($75 adults, $95 with wine pairings). On Christmas day, two options await: Christmas Day Ballroom Buffet has seasonal and classic menu offerings with champagne, 11 a.m. – 4 p.m., accompanied by a Jazz Trio ($95 adults, $29 children under 12), while Palm Terrace Christmas Feast features an à la carte holiday menu along with regular Palm Terrace menu favorites, 4 – 9 p.m. Call (888) 321-4752, or visit IslandHotel.com.
PELICAN HILL RESORT
An array of Christmas Eve and Christmas Day dining options are available at Pelican Hill, starting with Andrea Restaurant's Italian holiday festa from noon to 10 p.m., and a special holiday menu on Christmas Day from noon until 10 p.m. ($105 adults, $55 children). At Coliseum Pool & Grill, enjoy a three-course Christmas Eve dinner (a la carte selections) or a Christmas Day buffet ($60 for adults and $30 for children). Pelican Grill also has a Christmas Eve menu, including a special menu for children under 5, plus live entertainment. The Christmas Day menu is available 11:30 am to 10 pm. And finally, a Christmas Day Ballroom Brunch buffet with traditional offerings ($98 per adult, $45 per child) accompanied by a classic harpist, photos with Santa, cupcake decorating, and a puppet show. Call (800) 820-6800 or visit www.PelicanHill.com.
RITZ RESTAURANT
The Ritz Restaurant in Fashion Island serves a four course prix-fixe ($85) Christmas Eve dinner from 4 to 10 p.m. that includes a classic Seafood Martini with lobster and crab, choice of soup or salad (including Lobster Bisque laced with Armagnac), entrees such as the signature Roast Christmas Goose with Lingonberry Sauce, Main Lobster Tails, Carved Chateaubriand, and Osso Buco, and a Christmas Eve Dessert Sampler. Call (949) 720-1800 or visit RitzRestaurant.com.