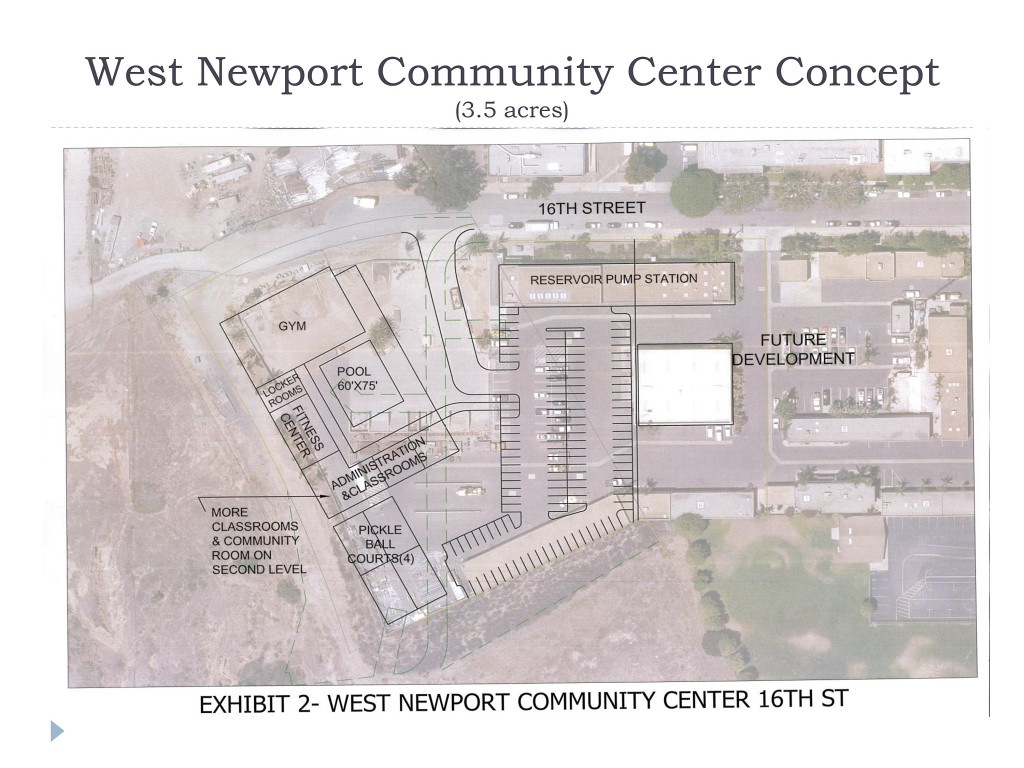 Newport Beach City Council voted Tuesday to eliminate the Superior Avenue and Pacific Coast Highway site as an option for the West Newport Community Center. The item passed unanimously, 7-0.
Included in the motion was councilman Ed Selich's suggestion to consider the property at Monrovia Avenue and 15th Street, where Road and Track magazine was previously located.
Councilwoman Nancy Gardner pulled the item from the consent calendar and suggested removing the Superior site from consideration.
After attending two public outreach meetings and hearing people's reactions, it seemed clear that the Superior location was not what residents wanted or what was best for the community, she explained.
"There are so many reasons against it, that far outweigh any benefits," she said. "The arguments against were so much stronger than the arguments for and the other site just doesn't have a lot of these same issues."
Reasons including traffic, emergency exit route, access and more, she said. Participants at the community outreach meeting also noted the increased noise, parking constraints, possible increase in crime because of a parking structure, and more.
Positive aspects of the Superior location include easy access by foot and bus, near city park, close to residents, participants concluded at the outreach meeting.
Community members came up with about twice the number of positive reasons for the 16th Street site than the Superior Avenue location.
Positives for 16th Street include room for expansion, less traffic, quiet, better parking, less expensive and more. The negatives included no bus access and limited access by foot, high crime after 5 p.m. and farther away from residents.
So rather than spend more money and staff time studying the site, it should just be removed completely and an alternative site be considered, she recommended
Her fellow council members agreed.
"I think it makes sense," said Councilman Mike Henn. "The more I thought about the Superior and PCH site, the less tenable that alternative has become."
The public seems to also agree, noted Assistant City Manager Steve Badum.
A city survey shows that 59.3 percent of residents polled liked the 16th Street location, 36 percent voted for the Superior Avenue site, and 4.7 proposed other sites, Badum explained.
"So it's pretty obvious that 16th is the right site," he said.
According to the survey, the top amenities were a lane teaching and lap pool (28 percent), walking track with fitness stations (22.7 percent), community garden (21.1 percent), playground (12.2 percent), pickleball courts (10.5 percent), transportation drop off/pick-up (4.9 percent) and other ideas (0.6 percent).
Popular indoor amenities include a fitness center (20.9 percent), wellness room (20.3 percent) art/mixed media room (16.9 percent), flexible rooms for education classes (13.1 percent), and gym, youth gym room, health screen/counseling rooms, health ed lectures, teaching kitchen and rock climbing wall were all under 10 percent.
During public comment, several residents supported the council's move.
"I am so relieved with your motion and your approval," said longtime West Newport resident Mike Johnson.
Resident George Schroeder also gave a quick presentation during public comment, highlighting a poll from Connect Newport Beach that showed 63.04 versus 36.96 percent were for the 16th Street location.
He spent about a half hour at the parking lot on Superior and found cars turning right around because the lot was full. If the lot is full, people often park across the street, he said, and then they get towed. Sometimes more than 20 cars are towed in one day, Schroeder said.
He also supported Selich's idea to consider the Monrovia Avenue and 15th Street location.
The Monrovia site was initially acquired by the city to preserve the 15th Street right of way and as a possible community center site, Selich explained.
If the Banning Ranch project is approved, there will be a community park next to the site, Selich noted. If it isn't approved, it will be a large open space, he added.
"It's in an excellent area to have a community center," Selich said .