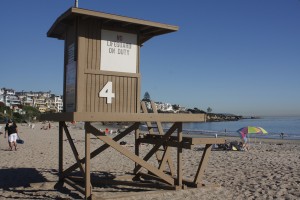 Outsourcing lifeguards was the topic of discussion between city officials and residents during a local resident's association meeting Thursday morning.
About 36 people crowded into a meeting room for Corona del Mar Residents Association's monthly board meeting, which featured guest speakers city manager Dave Kiff, Newport Beach Fire Department Chief Scott Poster, and Assistant Chief Rob Williams. The discussion was centered around the city possibly outsourcing a portion of the lifeguards at Big and Little Corona beaches.
"I still think it's reasonable to take a look at an aspect of our lifeguard services to see if someone else can do it better and cheaper," Kiff said.
The request for proposals went out in December and the deadline was Jan. 14. The city received five proposals, Kiff said, but he hasn't thoroughly read through them yet. Some or all may not be compliant with the city's requirements. If the proposals don't meet the city's standards or don't offer a savings, the issue won't be pursued, Kiff explained.
Staff will analyze the proposals and make a recommendation to city council. It will take two to four weeks to study them, Kiff explained.
The city is currently paying about $25 million  per year for pensions, Kiff said. That could go up significantly, he added, potentially into the $40-45 million range.
The city needs to make sure they can pay pension costs that are already in the works, Kiff said, for those that are already retired.
"We can't do anything to stop that cost," he explained. "So we need to start saving money to anticipate when that full cost is going to hit us."
It will hit between 2018-2020, he added, and will last for 20-plus years.
The city needs to prepare to pay for that in the future, he added.
"We need to try and exact out as much savings as we can," Kiff said.
Outsourcing the lifeguards could help alleviate the problem.
"I would never be proposing changing them if we didn't have this concern waiting for us," in the future, Kiff said.
"It's not just about saving the pension cost of the individual position," he explained. "It's about saving a cost that includes the entire operation shifting to another model. And if those cost savings are significant, we need to look at it. Because we need to save that money to pay for pension costs that are already cooked."
Resident and board member Barry Allen questioned why the outsourcing is targeting Corona del Mar's lifeguards
"They want to get rid of our lifeguards," in CdM, but not on the Newport peninsula side, he said. "I don't think that's a good idea at all."
Corona del Mar beaches are different compared to beaches on the peninsula, explained councilwoman Nancy Gardner.
Corona del Mar is a summer beach area, she said, the Newport side has people in the water year-round.
"We do have different needs and I think we can be more flexible," Gardner said. "And that's why we are looking at this side."
Other residents had concerns about quality of the service if it's outsourced, how other cities are handling their pension issues, and if this would affect the junior lifeguards.
Kiff assured the crowd that there have been services successfully outsourced without a decline in quality.
He also noted that some cities have addressed the issue and others haven't. Many city officials don't have a great deal of understanding about the issue, they think it's going to resolve itself or disappear, while others are choosing to ignore it and pass it on to the next manager for their city. Kiff emphasized that he wants Newport Beach to prepare for the future.
He added that there are no plans regarding the junior lifeguards.
The only time Poster spoke was answering resident Jim Mosher's question about an evaluation the fire department is currently undergoing. It's just about done, he said, results should be provided to the city within the next few months.
Police, fire and lifeguards are important services in Newport Beach, Kiff said.
"My job, the staff's job, along with the council, is to try and say, 'How can we continue to eke out savings without compromising what's important in Newport?'" Kiff said. "And it's a very challenging thing to do."