By Christopher Trela and Catherine Del Casale | NB Indy
One of our favorite dining events is finally here: Newport Beach Restaurant Week, which runs through January 26.
This annual event features more than 50 restaurants offering prix fix lunch menus ($10 to $20) or dinner menus ($20 to $40) designed to introduce new patrons to the restaurant's cuisine as well as welcome back existing customers.
All of the restaurants, and menus, are listed on the Newport Beach Restaurant Association website at NewportBeachDining.com.
We reviewed the menus and, while we don't have room to list them all, selected a few from different areas of the city that we're going to try and taste.
"Pelican Hill Resort has two of their restaurants participating this year," I told Catherine. "Pelican Grill and Coliseum Pool & Grill both have $20 lunch menus and $40 dinner menus that look impressive, and you know much we love visiting the resort."
"True, but I'm looking at the Balboa Island menus…Amelia's looks good—their three-course dinner menu for $30 include a choice of cioppino, filet mignon & scampi served with pasta and fresh vegetables, or a pink plate of broiled wild salmon, shrimp scampi, lobster ravioli and fresh vegetables," said Catherine. "Plus dessert of chocolate bread pudding or spumoni. You can add a glass of Ferrari Carano wine for $10."
"The Village Inn's $30 dinner looks good too, but did you see that 21 Oceanfront near the Newport Pier has a $40 dinner menu?" I asked her. "You can get an appetizer like mini beef Wellington, one of the entrees like blackened Skuna Bay salmon or duck legs confit, and a dessert."
"For that class of restaurant, that does sound good, but A Restaurant has a three-course $20 lunch that looks incredible," countered Catherine. "I'd start with the Chef's Choice charcuterie and cheese plate, then have either the blackened swordfish sandwich or the pan fried pork cutlet, and then try and finish the vanilla wafer banana pudding."
"Now that Brasserie Pascal in Fashion Island has closed, we may have to start going to Pescadou for our French food fix," I said. "Their $40 menu looks terrific, and the cuisine is authentic."
"Wow—look at the Crow Burger menu," exclaimed Catherine. "$15 for lunch or dinner, and there are 10 different burger options, plus a side, plus choice of beverages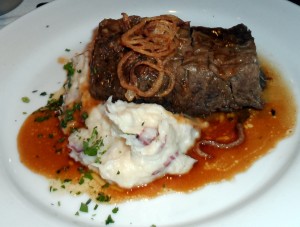 including craft beer."
"That's one of the best bargains I've seen for Restaurant Week," I agreed.
"I remember going to The Bungalow for Restaurant Week last year, but I was sick so I could only watch you devour the short rib dish," I recalled with a laugh. "I noticed
that short ribs are back on the $30 menu this year, so I say we go back to The Bungalow!"
Other restaurants that caught our eye, and palates: Bluewater Grill, 3-Thirty-3's $15 lunch menu, SOL Cocina's $15 lunch menu, JackShrimp's $10 lunch, Muldoon's lunch ($15) and dinner ($20) menus that include drink specials, and of course, The Ritz Restaurant, which closes in mid-February so any excuse to dine at The Ritz is a good thing—and so is their three-course prix fixe $40 menu.
Restaurant Week Spotlight: The Sliding Door Café
After quietly opening last fall, The Sliding Door Café in Balboa Village has become a local favorite, and it's easy to see why. This tiny bistro on Balboa Blvd. is cute and casual, but the food is serious and substantial.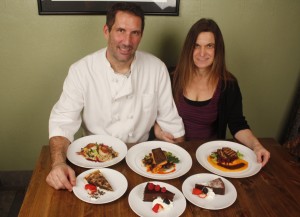 Owner-Chef Kevin Cahalan and co-owner Natalie Sarle grew up on Long Island, and went on a date to go roller skating when they were both in 9th grade. After the date, they went their separate ways. They reconnected online 30 years later and went on another date, then another. This time they clicked. Not only are they engaged, but they moved to Orange County and opened The Sliding Door, which takes its name from the concept of when a door slides open, if you don't go through it, it's a missed opportunity. It's been a recurring theme in their relationship as well as their business plans. Fortunately for diners, they opened the door of opportunity by launching The Sliding Door.
The cuisine is contemporary, or as Chef Kevin puts it, "Things that people want to eat that are made from scratch that taste good."
Their Restaurant Week lunch and dinner menus have perhaps the most options of any restaurant, with more than a dozen entrees available for lunch ($15) and dinner ($30).
We were invited to sample a few of the restaurant week items, and came away more impressed than ever with Sliding Door.
"If you're a fan of lobster and a fan of mac & cheese, I highly recommend the lobster mac & cheese," said Catherine. "The chef uses aged cheddar combined with Tasso ham,
which adds some smokiness to the dish, plus generous chunks of lobster and an herb gratine sprinkled on top."
"I agree, this is terrific," I said, trying to hog the dish. "But I also love this lobster curry soup—full of a great combination
of flavors with just the right touch of curry."
"I think my favorite dish is the pan seared diver sea scallops. The scallops themselves had an amazing buttery flavor to them without the addition of any type of sauce. They were paired with toasted cous cous, bacon, butternut squash, onions and mushrooms."
We sampled several dessert options, and could not decide on a favorite. Catherine leaned toward the chocolate truffle fudge cake.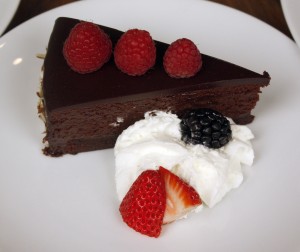 "Sometimes chocolate desserts can be too rich and you can only have a few bites, but not with this dessert," she said, smiling. "The outside has a thin layer of what looked
like flourless chocolate cake while the inside was a smooth and creamy chocolate. It tasted light and airy."
We also learned a secret as to why locals have been loving Sliding Door: no corkage fee!
For more information on the restaurant, visit The SlidingDoorCafe.com.