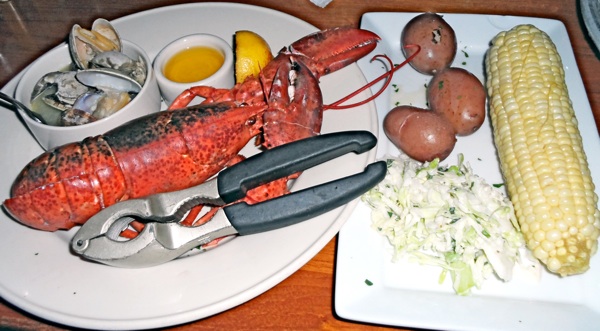 "Are you ready for a clambake?" I asked my editorial assistant, Catherine.
"A clambake? We don't have those where I'm from."
"You're in Orange County now, not Napa, and, well, we don't normally have them either. But Bluewater Grill offers a special clambake menu every summer, although theirs is a little different. It includes an entire Maine lobster."
"Now you're speaking my language," she said with a grin. "I love lobster."
"Then prepare your palate, because they're expecting us tonight. I'm bringing a bottle of Melville Chardonnay – Bluewater Grill offers no corkage fee for the first two bottles."
We arrived at Bluewater Grill on a Tuesday night at 7 p.m. and found the restaurant packed with patrons – always a good sign. We were quickly escorted to a table and given the daily menu.
"Hmmm…we may have to try one or two other things in addition to the clambake," I said to Catherine. "But how about we start with a cocktail before we open the wine?"
We ordered a lemon drop martini and an exotic antioxidant concoction called "The God" martini made with VeeV Acai Spirit, ion-infused vodka, pomegranate juice, and lemon juice.
"Wow, these are some of the best cocktails I've ever had," exclaimed Catherine after sampling each drink. "The lemon drop is perfect, and this one is sweet with a berry taste."
"I think we should order the Delaney's Shrimp and Scallops," I suggested. "This restaurant is in the spot where the old Delaney's once was."
As we debated ordering other appetizers, Chef Brian Hirsty came to our table. I told him we were going to order the Delaney's dish.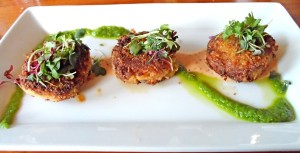 "Old school – that's a great dish," he said. "On the contrary, try the Ginger Lime Prawns, they're marinated served on top of celery root matchstick slaw with a cilantro lime reduction. We're also known for our crab cakes, they're phenomenal. Also the Sea Bon-Bon Sashimi Scallops. Once you try those, you're going to wonder why you've ever eaten a cooked scallop."
"Tell us about the clambake. You do this every year?"
"Yes, every July. The price on Maine lobster drops so it's the right time of year to do a clambake with lobsters. We might hold it over if the price for lobster stays reasonable."
"Your clambake includes lobster, clams, corn on the cob and potatoes for $32.95 – that's pretty reasonable," I stated. "You also have many more fantastic seafood dishes on the menu. I wish we could try everything."
"You'll have to come back. But in the meantime, let me get those other things going."
Chef Hirsty disappeared in the kitchen but soon returned with an array of appetizers.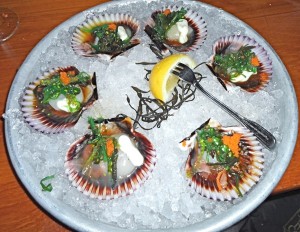 "I love these ginger prawns," said Catherine. "I don't usually like prawns, but these have an amazing smoky flavor. And the sashimi scallops are beautiful in their shells on top of the bowl of ice."
"The Delaney's dish is decadent – I need more bread to dunk in the sauce. And the crab cakes are terrific – a touch of Cajun spice that blends perfectly with the crab meat."
Our clambake meal arrived and took center stage on the table.
"Chris, my food is staring at me," laughed Catherine.
"Stare back," I joked as I cracked open a claw and removed the moist lobster meat.
"Can you do the cracking part so I can get to the eating part?"
"Of course."
We dug into our meal and sipped the Melville Chardonnay, which went perfect with the seafood.
"This was a perfect meal," I told Chef Hirsty when he came by to check on us. "We loved everything – the lobster, the clams, the corn, the appetizers, the martinis. And you look like you're having a marvelous time just being here and talking to your guests."
"When we first opened the restaurant we started to have a pile-up in the kitchen. We don't have heat lamps in the kitchen, so we only have a short window of time to get the food out before it gets cold. So, it was a natural process that I ended up out here in the restaurant delivering food. Sixteen years later, I'm still out on the floor."
"I like to get feedback from my guests," added Chef Hirsty. "I like to have a relationship with my guests. And when you see the gratification on the guests' faces, that's good. If I can make even one person smile every day, then it's all worthwhile."
"Chef, after tasting your cuisine, how could someone not smile?"
For more information on Bluewater Grill, visit www.bluewatergrill.com.