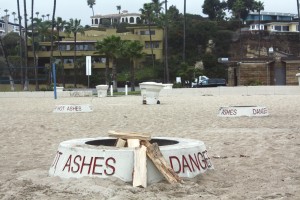 The flames have finally settled after the California Coastal Commission approved a plan with a mixture of both charcoal and wood burning fire rings in Newport Beach.
After about an hour and a half of discussion and about 20 public speakers, the CCC voted 9-1, with Commissioner Mark Vargas dissenting. They approved the city's submitted Plan 17, minus the Corona del Mar State Beach portion.
The 24-ring plan for CdM was placed aside after a letter from the State Parks asked for a postponement. Instead, commissioners approved (9-1, Vargas dissenting) an amendment allowing the city and State Parks to work out an agreement within 90 days.
Superintendent for California State Parks Eric Dymmel said they want to ultimately approve any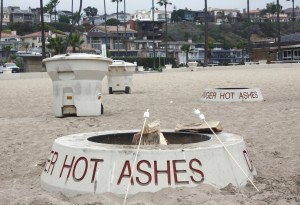 changes to the CdM State Beach. They need more time to meet with the city and resolve the issues and concerns they have, he explained.
On top of the 24 rings at CdM, Plan 17 calls for 32 around Balboa Pier and a total of eight at Newport Dunes. The plan also includes several ADA-accessible fire rings.
This has been a long and painful process, said City Manager Dave Kiff during the meeting, and Plan 17 has the approval of almost every group that has weighed in on the issue.
There was some miscommunication late in the game with the state parks, he said, but they have a good relationship and felt the issues could be worked out.
A few of the commissioners noted their concern about the health issues raised, but ultimately decided that it was up to the Air Quality Management District to determine any health risks. Most also reasoned that the plan was a good compromise.
Vargas said he couldn't support the plan because it's a net loss on the wood burning fire rings. Charcoal and wood burning fires are completely different, he added.
It will have a substantial impact on the general public, not just Newport Beach, he noted. It will be a severe limitation on the way people use the beaches, Vargas said.