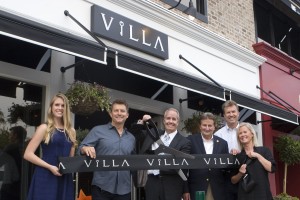 Villa Real Estate celebrated the opening of its newest location on East Coast Highway in Corona del Mar with a ribbon cutting ceremony and awards presentation.
Villa owner Gary Jabara and co-founder Steve High were joined by Newport Beach Mayor Ed Selich and representatives from the Corona del Mar Chamber of Commerce as they cut a ceremonial ribbon.
Villa was also presented with a Beautification Award from the Corona del Mar Chamber of Commerce, for bringing the seaside enclave a dose of modern architecture and design.
Villa has transformed the building into a striking and modern office, combining an exposed brick façade with modern red and black awnings alongside sleek black and white architectural details.
Nearly 100 people filled the new office of Orange County's leading luxury residential real estate company to enjoy wine, champagne and delicious appetizers by Jeff the Chef. A Spanish guitarist added to the festive ambiance.
Like all of Villa Real Estate's locations, the Corona del Mar office is a full service branch, offering sales and leasing services with a team that offers experience in the communities throughout Coastal Orange County.
For more information, visit villarealesate.com.