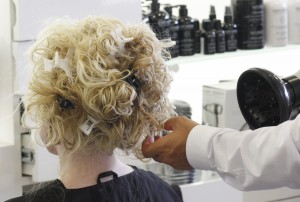 Cristophe Salon in Fashion Island is not your everyday salon.
You walk through the glass doors to be greeted with modern, sleek white stations free of clutter other than simple potted plants and perhaps a glass of water.
The beauty of the salon is enhanced by the floor to ceiling windows that encompass the entire front of the salon, allowing a great amount of natural light into the salon.
I was greeted by celebrity stylist and Cristophe owner, Scott Fontana, who told me about their renovation.
Cristophe recently added 300 square feet of shop space to accommodate the rapidly growing clientele list. Eight more hair stations (four color stations and four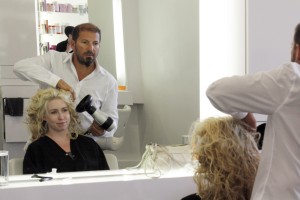 style stations) and two shampoo bowls were added, as well as an updated nail area, new brow bar and make-up station.
I also learned that each employee chooses their specialty, either styling/cutting hair or coloring, but never both.
The first floor is dedicated to the stylist, while the second floor houses the coloring room. Having grown up with family members in the hair industry, I can attest to the fact that most hair stylist are good at either coloring or cutting; very rarely do you find someone that is great at both.
At Cristophe they acknowledge this and provide their clientele with both a stylist and colorist, so you leave there with a phenomenal color job AND haircut.
As Scott explained, "We focus on mastering that one skill. I don't want my plumber doing my electrical or my electrician doing my plumbing."
Another aspect that makes Cristophe Salon stand out is their quality control and customer service. With 85 percent of the salon being commission based, they really care about the work they are doing.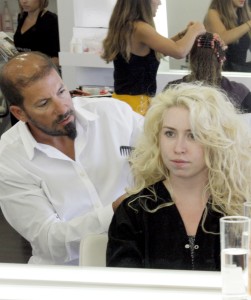 Scott provides hair-cutting classes once a week, while the color educator does the color classes. They also bring in L'Oreal national educators to teach techniques as well as have business classes to keep their employees well rounded.
"This isn't just a salon, it's a hospitality setting," said Scott. I couldn't agree more as his friendly staff offered me a glass of water the moment I stepped through the doors.
Scott took me through a consultation and gave suggestions of what would look good for my face shape and hair type. With over 30 years of experience, he was able to tell what I struggled with on a daily bases with wavy, thick hair.
I was then whisked away by an assistant to the shampoo bowl, where my hair got a healthy mask treatment from Scott's very own product line, the Scott Fontana Collection. Scott meets with all new clients who have not been refereed to a specific stylist to that he can match you with the best fit.
Once I was done, I left the salon feeling happy and content. Not only did my hair look amazing but also the entire experience from start to finish was impressive. The level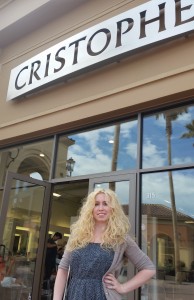 of customer service and friendliness from the staff, be it at the front desk or the stylist in the chair next to me, elevated my visit.
If you are looking for a luxury experience and want to get out of the hair rut you're in I strongly recommend coming to Cristophe Salon Newport Beach. But don't be surprised if you never want to leave.
Cristophe Salon Newport Beach is located in Fashion Island and is open daily (hours vary). To make an appointment call (949) 219-0920. For more information visit CristopheNB.com.