It's easy to make New Year's resolutions, but harder to actually start them. If you're like me, top resolutions include getting fit, eating healthy and managing stress. Here are some helpful tips and tricks that can aid you in reaching your goals for 2014.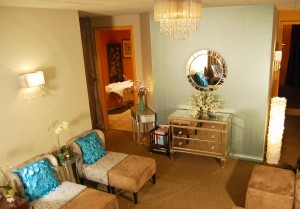 Spa Gregorie's
Getting healthy doesn't just involve your eating habits. Visiting a spa for a relaxing and healing service can get rid of some of that pent up stress and frustration that's been holding you back.
I suggest Spa Gregorie's lymphatic drainage massage, which not only feels wonderful but is also designed to stimulate the lymphatic system. It helps remove toxins from your body and directs your body to a more balanced you. $160 for 90 minutes, and you receive a take-home detox bath.
If you're looking for a way to fight cellulite, I suggest trying the world's first patented and FDA approved therapy for reducing the appearance of cellulite called the Endermologie Cellulite Treatment. The machine gently rolls along the skin to get rid of the toxins that create the unwanted cellulite and leave you with smooth skin. $95 for 45 minutes.
For more information on services or to book an appointment visit spagregories.com or call (949) 644-6672.
The Juice Cleanse Reset Diet
Sometimes it can be overwhelming choosing what to eat in order to feel your best and lose that extra weight you've been carrying around. A new book released New Year's Eve (just in time to help with your resolutions) called "The Juice Cleanse Reset Diet" can help. The book's authors, Marra St. Clair and Lori Kenyon Farley, are co-founders of Ritual Wellness, as well as health coaches and certified nutritional consultants. Their book features easy-to-follow recipes, fitness tips and DIY beauty and skin care recipes.
I love the fitness tips that show you what exercises to focus on based on the outfit; sleeveless dress, swimsuit, etc. I also enjoyed their examples of how to insert exercise into your daily life such as using reusable bags to gather groceries while you walk through the store to help work on your arms, or parking at the far end of the parking lot so you can get some extra steps in.
To purchase the book, and to get a Ritual Wellness juice cleanse to jumpstart the New Year (I've tried them and they're great), visit ritualwellness.com. You can also order the book online at Amazon.com.
Liquid Keratin
Looking to save money after the holidays but still want to have smooth, frizz free hair? As someone with extremely thick, wavy and unruly hair, I've tried every product under the sun to tame it. I even had a professional Brazilian blowout this past fall, but keeping this up can be costly.
As an at-home alternative, I suggest using Liquid Keratin. This smoothing treatment has no formaldehyde or aldehyde, and is only $39. If you have extremely wavy or curly hair, don't expect it to be completely straight after a treatment. It left my hair smooth, silky and with a shine that I love, but I still had wave and bounce.
You can find Liquid Keratin products at multiple salons in Newport Beach. Visit liquidkeratin.com to learn more.
Airbrush Tan
Worried about losing your tan over the winter? BRONZED, a boutique airbrush tanning salon, recently opened in Newport Beach. They are offering free organic airbrush tans to all new clients who mention this promotion through the end of January. Sometimes something as small as bronzing your skin can make you feel like you're glowing on the inside too.
Visit their website at bronzedairbrushtanning.com or call (949) 478-5661 to book an appointment.
Happy 2014! Good luck with your goals for health and beauty in the New Year.