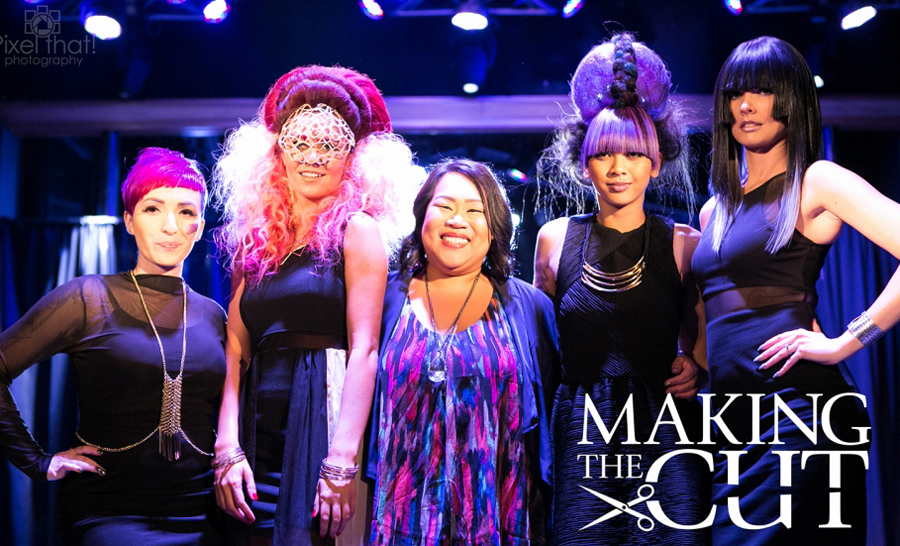 Who is OC's top stylist?
That was the question of the evening when six of Orange County's top stylists competed for the title of OC's Top Stylist 2014 and a prize of $2,500 at "Making the Cut," the only live hair styling competition in Orange County.
Celebrity stylist Scott Fontana, owner of Cristophe Salon in Newport Beach, launched the first "Making the Cut" in 2013. This year's show, held at The Observatory in Santa Ana, featured a special presentation by Scott Fontana as he cut and styled two models at a rapid pace.
The six stylists (selected from numerous entries) then came out and the live hair cutting and styling began.
Host and former "Baywatch" star, Jeremy Jackson, asked the stylists questions about their process.
The live styling was followed by a runway show featuring four models from each finalist. The winner was decided by a panel of four highly qualified judges including Scott Fontana, Laurent D. (celebrity stylist and owner of Privé salons), Leyla Milani Khoshbin (former model, actress, TV host and founder of Milani Hair), and Raha Lewis, staff writer for People Magazine and People Stylewatch.
The show also featured a special makeover for a client of Working Wardrobes, a nonprofit that helps empower men, women, young adults and veterans to overcome challenges through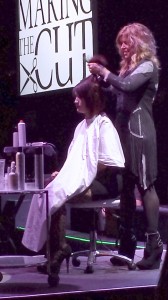 job skills training, job placement assistance, wardrobe services and financial readiness training. People were able to by raffle tickets for beauty prizes and help contribute to this great cause.
The evening's winner, Krystle Blair from The COLLECTIVE…A Hair Salon in Costa Mesa, created four styles that were dynamic, modern and unique. One audience member, Kara Scofield, said, "I knew Krystle would win, she not only used colors to enhance the bold lines of the cuts but the cuts themselves came to life matching each models specific features. Her technique was amazing and not one hair looked out of place."
The show was fun and upbeat with amazing stylists creating works of art right in front of you. I'm already looking forward to next year's event (the date will be announced later this year).
If you are a stylist looking to prove your abilities, someone searching for a new hairstyle, or just want to see a fun and stylish show, I recommend attending "Making the Cut."
"We encourage people in the area to come see the show to watch some of their favorite local stylists compete to earn the honor of OC's Top Stylist," said Scott Fontana, creator of Making the Cut. "It truly is the only live hair cutting event of its kind and it's taking place right here in Orange County for all local residents to enjoy."
To learn more about Cristophe Salon Newport Beach and to keep an eye out for next year's "Making the Cut," date, visit cristophenb.com. For behind the scenes photos, follow Cristophe on Twitter at twitter.com/cristophenb and on Facebook at facebook.com/cristophenb.
Planet Beauty
 Jane Ireland of Jane Ireland cosmetics is coming to Planet Beauty Newport Beach on April 29 from 5 to 7:30 p.m. to unveil her new Magic Hour Spring Collection. The event will have a meet and greet with Jane Ireland and mini spring makeovers. There is a $35 fee that is redeemable on Jane Iredale products during the event. If you would like to attend, RSVP at [email protected].