Looking to make a fashion statement this holiday season? I have two words for you: Lugano Diamonds.
The company, which opened its retail location on Newport Center Drive in 2005, is renowned for designing and crafting wearable works of art. Their latest releases continue that tradition.
To celebrate the Chinese New Year that begins January 31 (the Year of the Horse),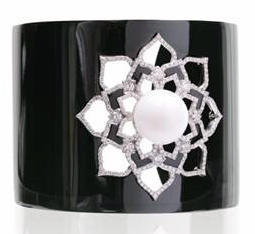 Lugano has unveiled an 18 carat black and yellow gold mid-length necklace with over 700 white round diamonds (7.10 total carats) and 50 cognac diamonds (.28 total carats).
The necklace is bold and modern, with a thick chain and horsehead feature.
"This extraordinary necklace embodies the Lugano Diamonds philosophy," said Moti Ferder, president and design director of Lugano Diamonds, in a press statement. "Paying homage to a timeless passion, it was crafted to be as relevant now as when it is passed down to the next generation of equestrian enthusiasts."
If you're more of a bracelet girl, they recently released a natural clam pearl and zirconium flower cuff, designed by Ferder. The piece, which includes 1.77 carats of diamonds, is elegant and sophisticated with a blooming flower on a modern cuff bracelet.
There's a saying that "diamonds are a girl's best friend," but in Newport Beach, Lugano is a girl's best friend.
You can view these pieces and many others at the Lugano retail location at 620 Newport Center Drive, Suite 100.
For more information visit luganodiamonds.com, or call 866-584-2666.
Van Cleef & Arpels at Bowers Museum
If you want to be inspired by beautiful – and historic – jewelry pieces spanning more than 100 years, look no further than the Bowers Museum in Santa Ana.
Through February 15, 2014, the museum is hosting "A Quest for Beauty: The Art of Van Cleef & Arpels."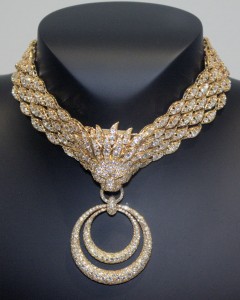 This truly stunning exhibit features more than 200 pieces, and is divided into four themes: nature, elegance, exoticism, and femininity.
Not only can visitors see these exquisite pieces up close, they also learn the stories behind the pieces, from the designers to the exceptional women who wore them.
The femininity section features pieces worn by women of royalty such as Princess Grace of Monaco to Hollywood stars like Elizabeth Taylor.
One of my favorite pieces is the wedding set worn by Princess Grace of Monaco, which includes a three-strand pearl necklace with diamond features, along with a bracelet earrings and ring in a similar style.
The nature section has pieces inspired by elements of nature including foliage, flowers, animals and more. They're rich in colors ranging from magenta to emerald that really do capture the beauty of nature. This part of the collection features many of their more enchanting and whimsical pieces.
The exoticism section includes pieces inspired by the Far East, which became popular in the 1920s. These pieces use jade, calligraphy and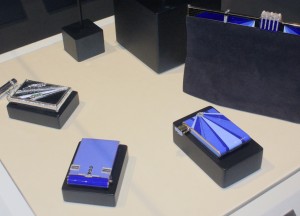 inspiration from mythical treasures and creatures.
The final section, elegance, is my favorite. It features pieces from the Art Deco period with intricate detailing, gold weaves and precious stones.
One of the most interesting pieces is the zip necklace with can be transformed into a bracelet. It was inspired by the closures for aviator jackets and sailors' uniforms. This yellow gold necklace with emeralds and diamonds has an extra segment and second clasp which allows it to also be worn as a bracelet.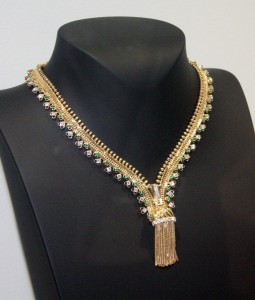 Of course, for a modern version of Van Cleef & Arpels, visit their boutique at South Coast Plaza.
For more information on The Bowers exhibit or to purchase tickets, call (714) 567-3600 or visit bowers.org.