Skin Laundry
Ever wonder why there isn't a skin treatment that's quick, affordable, and effective?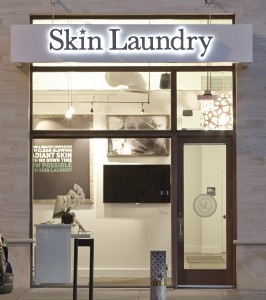 Now there is at Skin Laundry in Fashion Island, a new spa-like facility with a laser treatment that only takes 10 minutes, with packages starting as low as $55 per session.
With already three locations opened within a six-month period, Skin Laundry has gained popularity and a strong following in Southern California.
I visited the Newport Beach store shortly after it opened to try one of the treatments. There are six treatment rooms at the facility, each with an extremely comfortable treatment chair made from memory foam.
After removing all makeup and product from my face, I was walked through the process step-by-step with a registered nurse. She began with a light laser treatment, which helps to rejuvenate the skin and remove all of the dirt and bacteria that can clog your pores. I felt a light snapping usually associated with lasers, but it was barely noticeable and lasted only a couple of minutes.
Following the laser, a cool gel was placed on my face and an IPL light used to stimulate collagen production, leaving my skin tight and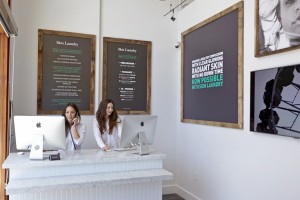 even.
The entire process took about 10 minutes and then I was out the door, feeling rejuvenated.
What's great about this concept is you get all of the benefits of a laser treatment without the down time that many of the longer and harsher laser treatment and chemical peels can cause.
After the treatment, I noticed a decrease in pore size and an overall glow and evenness to my skin. Another added benefit: a decrease in pigmentation and improvement of scars and blemishes.
To learn more about Skin Laundry and to book an appointment (first-time clients receive a complimentary treatment), visit skinlaundry.com or call (949) 706-7203.
Facialworks
If your skin is feeling the effects of the cold, dry weather, I've found a solution that will not only moisturize your skin but will be both affordable and fun.
Facialworks is a new oxygen facial bar that features flat screens playing your favorite movies while your skin gets some much needed attention.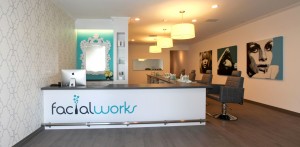 I visited Facialworks with my friend Suzanne to be pampered while still being able to catch up and have a conversation. We both sipped mimosas while we watched "How to Lose a Guy in Ten Days" and caught up on the most recent gossip.
The treatment includes a cleanse, exfoliation, moisturizing and/or anti-aging mask, oxygen infusion, moisturizer and sunscreen.
You are given the option to customize your treatment or let your esthetician decide for you. I went with the latter and was not disappointed. They use a mixture of products from their own custom line alongside Dermalogica, Clarisonic and Glo mineral make-up. Having never had an oxygen infused facial I wasn't sure what to expect. I discovered that a serum full of vitamins and hydrators is infused deep into the skin with oxygen through a special tool.
The treatment took about 45 minutes but seemed to fly by as I chatted with my friend and sipped on my bubbly.
After our treatments Suzanne summed it up best: "It's nice to feel moisturized without feeling greasy."
The treatment left our skin looking healthy and glowing, without the redness often attributed to harsher facials. A week has gone by since I had the oxygen facial and my skin is still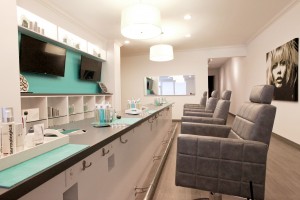 glowing and hydrated.
As someone with dry skin year-round, I'm constantly using heavy moisturizers that end up as a short-term solution. It feels great to be able to wake up and no longer have to worry about my skin drying out.
With the facial starting at $35 a la carte, I know that I will be a regular at Facialworks.
To learn more about package options and to book an appointment visit thefacialworks.com or call (949) 877-1911.