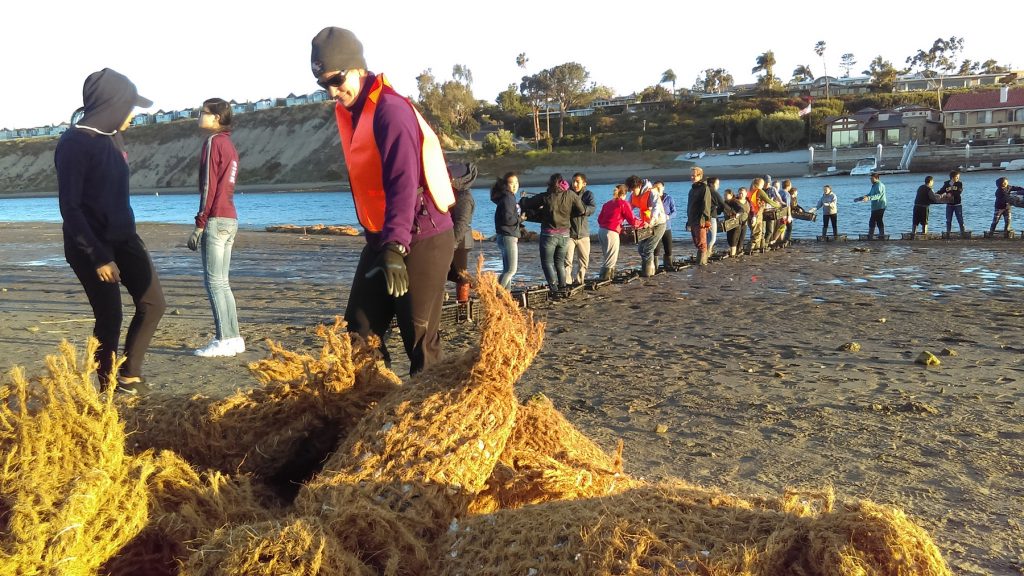 It's been a busy year for Orange County Coastkeeper. The environmental nonprofit group doesn't just say that clean water is a necessary part of a healthy ecosystem, they work to make it happen.
Last month, Coastkeeper partnered with a group of local Girl Scouts to remove trash from the end of the Santa Ana Channel that empties into a part of Upper Newport Bay. 
Together, they removed an impressive 105 pounds of garbage from the Newport Bay Watershed. An old bike, a Keurig machine, and a shopping cart were among the items prevented from flowing into the Pacific Ocean.
It was the first cleanup done through the Adopt-a-Channel program, which is coordinated through Orange County Public Works. Orange County Coastkeeper adopted the project area at the end of the channel, directly above Upper Newport Bay Nature Reserve.
This was the first of a series of cleanups that Coastkeeper has planned for the coming year.
Coastkeeper also hosts monthly beach cleanups in Huntington Beach and San Clemente, but their mission also involves replacing natural elements that have been lost over time.
Earlier this year, they hauled 20 tons of Pacific oyster shells into Upper Newport Bay. It took 150 volunteers to deliver 150 large bags into the water, bucket-brigade style, during low tide.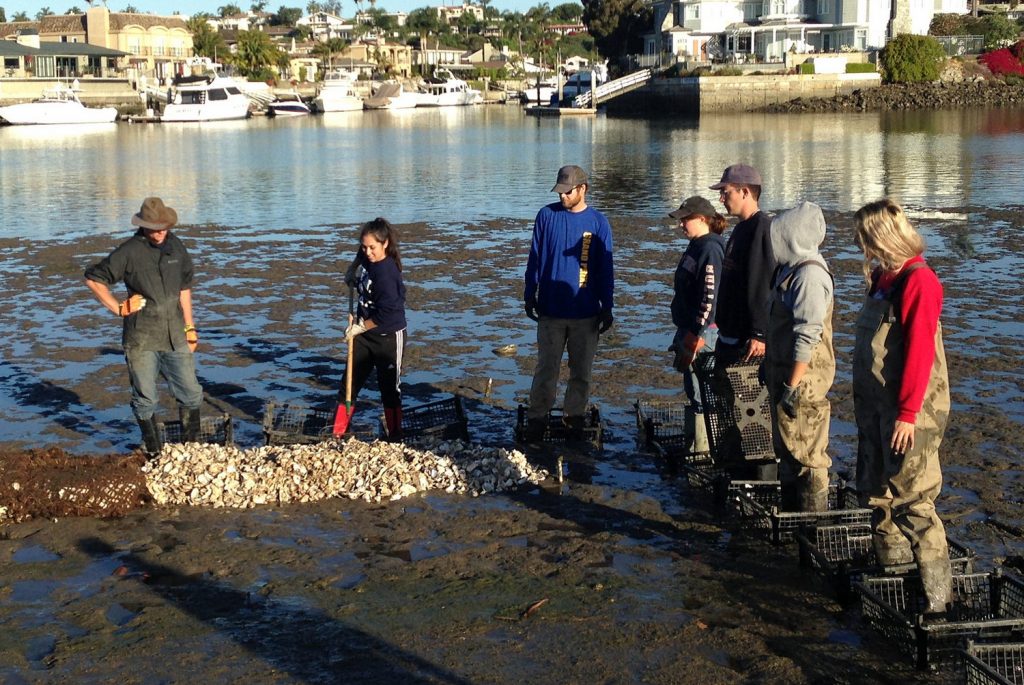 The empty shells, stored within hand-sewn coconut fiber bags, were placed strategically to protect the shoreline form erosion and rising sea levels. Combined with years of eel grass restoration in the area, it is hoped that the shells will replenish the oyster population, improve water quality, and attract more marine life.
The coconut fiber bags were hand-sewn in April by a group of students and volunteers. The coconut fiber was chosen for its biodegradability.
For an entire week, volunteers deposited the shell bags to four different sites in Upper Newport Bay.
"It's not every day you see students from four universities and volunteers wake up at 2 a.m. to protect and enhance our shoreline," said Orange County Coastkeeper Marine Restoration Director Katie Nichols. "Their hard work and dedication to the project was inspiring, and we hope to see it pay off in the form of improved water quality and an enhanced native Olympia oyster population."
The combined restoration of eelgrass and oyster shells has not been widely studied. Coastkeeper anticipates that the underwater ecosystem will continue to flourish.
East coast conservation groups have noted the benefits of laying oyster shells to protect shorelines from rising sea levels, but few have documented the outcome of a combined eelgrass and oyster shell enhancement.
Coastkeeper is well known in Newport Beach for their work with eelgrass. Over the last five years, their volunteers have planted more than 2,500 spare meters of eelgrass as part of their ongoing Living Shorelines project.
That work has already resulted in improved water quality and increase in marine life, according to the Coastkeeper website.
As oyster reefs diminish around the world, Coastkeeper believes that proactive restorations of this specific shoreline ecosystem must happen now. Like all natural restoration, the project will take years before results can properly be documented.
This weekend, Coastkeeper will again be at Upper Newport Bay to restore eelgrass. Volunteers will work on Friday from 10:30 a.m. to noon bundling eelgrass, and from 10 a.m. until noon on July 8 restoring eelgrass into the bay.
For more information, visit Coastkeeper.org.