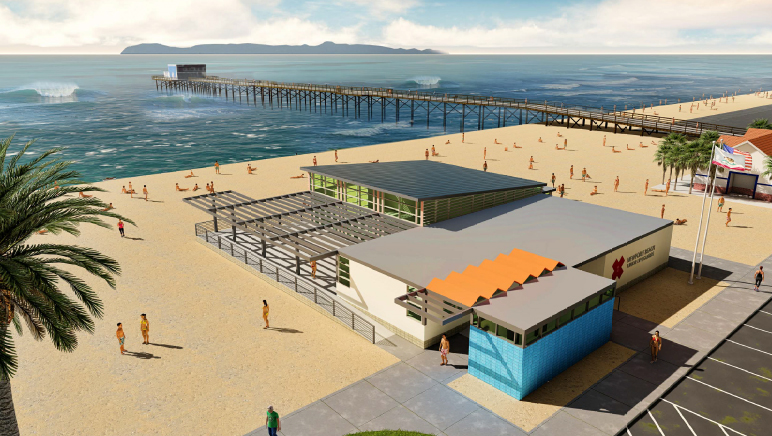 The Newport Beach Junior Lifeguards need a new home.
Now in its 33rd year, the seven-week summer program teaches ocean safety and swimming to children ages nine through fifteen. It is so popular that the city runs both a morning and an afternoon session to accommodate the number of participants, all of which must pass a timed swim test before being allowed to join.
When it began in 1984, only 50 children took part and the organization was run from a single trailer on the sand.
Today, the junior lifeguards program has 1,400 participants in four divisions, but still operates out of portable trailers and temporary shipping containers parked on the sand near Balboa Pier. There is no running water and the children must use nearby public restrooms.
"The program has outgrown the current dilapidated, unsanitary temporary facilities," said Graham Harvey, chairman of the Newport Beach Junior Lifeguard Foundation.
To find a solution, the foundation began working with the city of Newport Beach last year to develop plans for a permanent building to house the program.
The proposed structure, designed by the City of Newport Beach Lifeguard Department, Public Works, and the City Manager's office, is a 4,895 square foot single story building. It will feature a training auditorium, youth bathrooms, locker rooms, a dedicated First Aid center, administrative offices, and space for secure storage.
The future headquarters is estimated to cost nearly $2.5 million. An extra $734,000 may be needed for inspections and testing, plus a $245,000 contingency fee.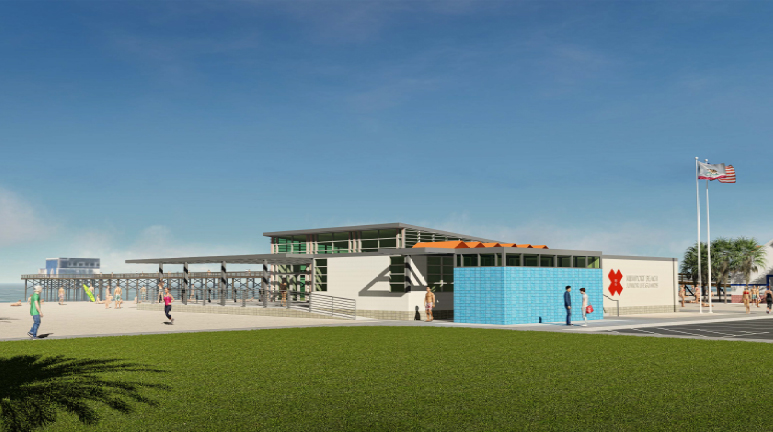 "The Foundation is committed to raising as much money as we possibly can because this building is essential for the long-term success of the Newport Beach Junior Lifeguard program," Harvey stated.
The exact amount that the foundation will contribute is still being decided.
"As a private fundraising organization, the Newport Beach Junior Lifeguard Foundation is grateful that the City of Newport Beach has proposed a practical, safe, and sanitary Junior Lifeguard headquarters building. The Lifeguard Department and City Staff have done a tremendous job," Harvey wrote in an email.
Harvey, who has been with the charitable foundation since its incorporation in 2011, was a Newport Beach Junior Lifeguard as a child before becoming a Lifeguard Cadet and then a Newport Beach Lifeguard and Junior Lifeguard instructor for over 12 years.
"Junior Lifeguards was a very positive part of my childhood," he said. "Learning to respect the ocean, build confidence, meet new friends and stay physically fit was the best way to spend a summer. I have two young sons and I can't wait until they too become Newport Beach Junior Lifeguards."
City council member Diane Dixon said she has met with the junior guard organization and wishes them great success with their fundraising efforts. "I'm very supportive of the junior guards, particularly because of their broad and deep outreach to the community," she said. "It's an important institution and a new headquarters is needed."
Over $90,000 has been raised thus far, according to the foundation's website, with only 12 donors. The online donation site says that their goal is $500,000.
"The Newport Beach Junior Lifeguard program is one of the true jewels of Newport Beach," Harvey noted. "We are proud to be part of its success."
To learn more or make a tax deductible donation, visit nbjgfoundation.org.
Individuals or businesses who donate $1,000 or more will have their name permanently displayed on the new Junior Lifeguard's building donor wall.