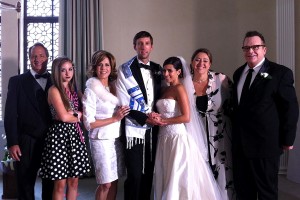 That special time of year is back: The Newport Beach Film Festival.
"This year, we have a wonderfully balanced and eclectic lineup of films from around the world," said Leslie Feibleman, Director of Special Programs and Community Cinema. "We have the largest number of screening and special events this year than ever before."
The festival, in it's 13th year, will feature more than 400 films from 50 countries and will run from April 26 through May 3.
The opening night will feature the world premiere of "Jewtopia" at Edwards Big Newport theater at 7:30 p.m. on April 26. The gala reception will be follow the film at Fashion Island and will include tastings from 35 Orange County restaurants.
The film, inspired by a play, stars Ivan Sergei, Joel David Moore, Jennifer Love Hewitt, Jon Lovitz, Rita Wilson, Tom Arnold, Peter Stormare, Camryn Manheim, Jamie-Lynn Sigler, Wendie Malick, Nicollette Sheridan, Phil Rosenthal, Christine Lakin, Hayes MacArthur and Lin Shaye.
It is the directorial debut for Bryan Fogel, who also co-wrote the screenplay, the stage play and the book, with Sam Wolfson.
This is just one of many, Feibleman said.
Every year there are more films, more big premieres, and more celebrities, Feibleman said.
This year's films should appeal to a wide cross section of the community, she said.
Films featured at the festival range from quirky to serious, zombies to romance, experimental to environmental, animated to documentary.
"There's something for everyone," Feibleman said.
At certain events, attendees will mingle with celebrities, walk the red carpet and event chat with filmmakers.
"We expect about 400 filmmakers come out to participate in the Q&A events," Feibleman said.
Attendees can buy an all-access pass to get the most out of the festival, Feibleman said.
"The all-access pass [is for] filmgoers [that] really want to immerse themselves in the films and celebrations," Feibleman said. There are also free and inexpensive events, she added.
There is an expanded music film series this year, Feibleman said, as well as action sports film series including several world premieres.
The youth film showcase features filmmakers 18 and under and a collegiate series as well, she added.
"There's so much happening," she said.
There will be several local films and filmmakers showcased at the festival, Feibleman said, including the premiere of "Behind the Orange Curtain" by Brent Huff. The documentary takes "an in-depth look at the epidemic of prescription drug addiction plaguing teens and adults throughout Orange County and its heartbreakingly personal consequences as families are being shattered by something legal, available, and as close as their medicine cabinets," according to its description.
Another local filmmaker, Brent Deal, has two action sports films in the festival, "H2indO" and "Decade of Dominance." Both feature world champion paddle boarders, "H2indO" follows several as they head to Indonesia to paddle the famous surf breaks there, while "Decade of Dominance" follows just one, Jamie Mitchell, in his quest to win the World Championship of Paddle Boarding for the tenth time.
As the festival grows each year, it takes more and more to run it.
About 500 volunteers participate every year, working in shifts throughout the festival doing various jobs like ushers, line control, filmmaker relations, production help, and everything in between.
"They take pride in their job and are really proud to represent the Newport beach film festival and the city of Newport Beach," Feibleman said.
Another set of volunteers are film reviewers. About 150 film reviewer volunteers start in August and finish in January, when the Programming Committee takes over for final selection. There are about 3,500 films to review, Feibleman said.
"They are actively involved with the selection of the films," she said.
Another way to get involved is the intern program. College students earn credit while gaining knowledge of the film and art industry, Feibleman said. There are about 50 interns this year, from various local schools.
Feibleman encourages anyone and everyone to come and check out a film or two, or more.
"Film is an important vehicle to connect to people, raise awareness and promote cultural understanding," Feibleman said. "[The festival] encourages people to take part in the conversation."
Visit www.NewportBeachFilmFest.com for more information.