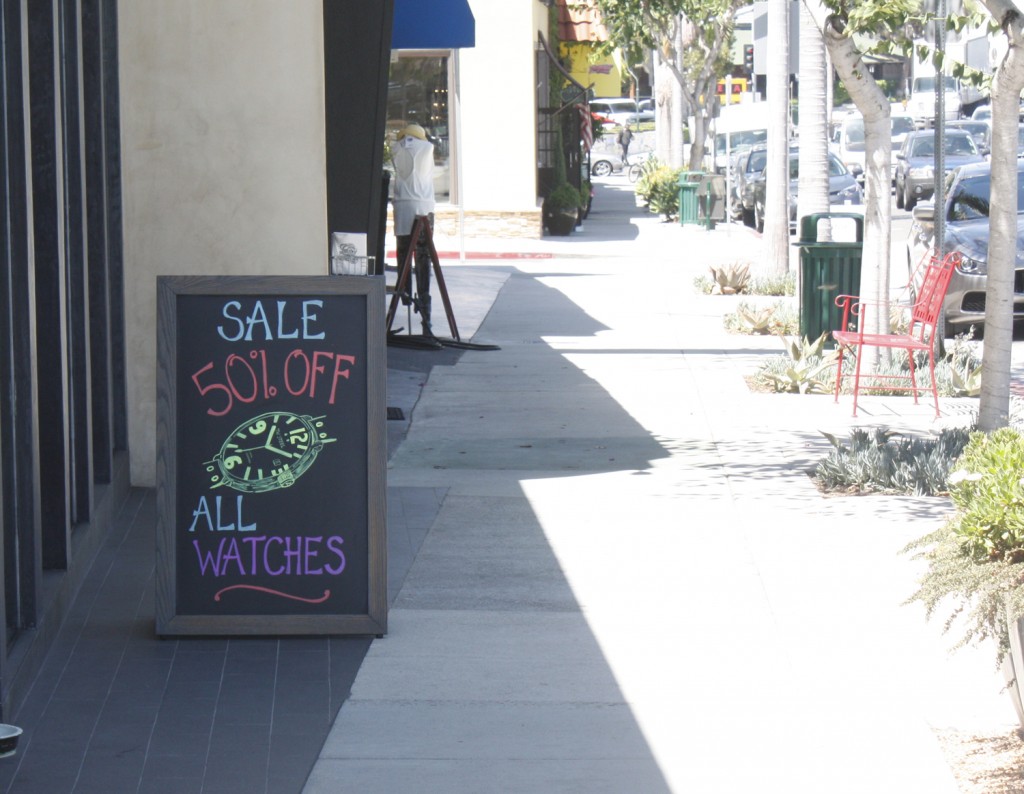 A-frame signs may soon be allowed in Corona del Mar following a Planning Commission vote last week.
The commission voted Aug. 21 to recommend adoption to the city council of a code amendment allowing a-frame signs with certain limitations in Corona del Mar.
They approved the recommendation 4-2, with chair Larry Tucker and commissioner Raymond Lawler dissenting, and vice chair Kory Kramer absent.
City council will review and vote on the item at a later date.
A-frame signs are currently prohibited city-wide, except if they are not visible from the public right-of-way. The item was brought up by city council after the CdM Business Improvement District asked for an end to the prohibition of the A-frame signs.
"It sounds good in concept," Tucker said. "It's the practical aspects of it that I think are troubling."
It may create an "a-frame sign war," he commented.
Despite the code prohibiting them, they're still there, Tucker pointed out. There will be a lot more if they are allowed, he said.
"Tenants think that signs are going to be the answer and they're going to have as many signs as they can," Tucker said.
It's not a great idea, he said. It might even be a bad idea, he added.
There will be a conflict with the public right-of-way, Tucker remarked.
"I think it's going to be a bit of an issue," he said.
Several commissioners shared his concern.
"This seems like a good idea on the surface, but I also sympathize with the public right-of-way issue," commissioner Raymond Lawler agreed.
Commissioner Bradley Hillgren liked the idea of the signs, but was concerned about determining where the property lines are and how a business owner would know where exactly they could place their sign.
"I think the signs could be a lot of fun. I think it could dress up the sidewalk in certain areas and you want to encourage it," Hillgren said, "but how do you keep it from becoming a problem? How does somebody know where they can and can't put it when you don't have defined lines out there?"
There was also a bit of concern for properties that have multiple businesses.
The three foot separation requirement will hopefully eliminate that issue, said city Planning Program Manager Patrick Alford.
It may become a matter between tenants and the landlord about who would be permitted to have a sign, he added.
Alford explained the other regulations, including being within 10 feet of the primary entrance, no interference with pedestrian movement on the walkway, displayed only during business hours, and they have to be outside of planters and parking areas. They would be limited to one per space.
The sign area would be 10 square feet per sign face and a maximum height of 48 inches. No illumination or tracking devices would be allowed. No permit would be required.
A key concern regarding the issue was the number of signs that would be allowed, Alford noted.
The limitations will ensure that they won't become an eyesore, he said.
Only two people spoke during public comment. The first speaker, a Balboa Village resident, didn't want anything else cluttering up the sidewalk. The second noted some grammatical corrections that needed to be made to avoid any misunderstandings.
There were several letters from residents included in the staff report, some in favor of the signs and a few against them.
"A-frame signs, if done well, can make for an interesting walk down the sidewalk," Hillgren said.